Cyberweld Price
$2,755.00
Cyberweld Price
$2,755.00
Mfg Industrial Price: $2,900.00
Unit price
per
FAST & FREE SHIPPING On All Orders Over $50

BUILDPRO® Rhino Cart® Fixturing Package TD5-4830Q-K1
Genuine BuildPro® Rhino Cart® Fixturing Package includes a 48 X 30 inch Rhino Cart Mobile Working Station and 66 piece fixturing kit. It is ideal for fabrication, welding, or repair jobs. Its heat treated tabletop is resistant to wear, weld spatter, and rust. It is also reversible. Simply flip the tabletop for a new work surface. The CNC hole 2 x 2 spacing pattern allows for accurate and repeatable setups. All clamps and fixturing elements are designed to be placed and easily adjusted at the top of the table. Steel table legs include casters and leveling legs for mobile or stationary use, inside or outside the shop. Shelves, racks, and pegboard panel provide lots of convenient storage to keep all your tools within reach while working.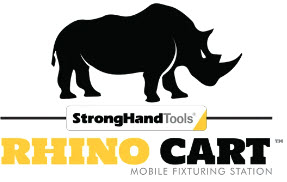 Features
Reversible Tabletop nitrided and black oxide table plate is reversible as well as weld spatter, rust and scratch resistant.
CNC Hole Pattern accurately position parts in CNC precision bored 5/8 dia. holes in 2 x 2 spacing pattern.
Store and Organize shelves, racks, and a pegboard panel allow you to store, organize, and keep clamps and accessories within reach.
Locking Casters steel legs are equipped with four locking casters and leveling feet for mobile or stationary use.
Compatible with 5/8" fixturing elements compatible with all MAX Clamps, Components, and Modular Fixturing Kits except Sliding Channel Clamps, Sliding Channel Bases, Slot filler Kit and T-Slot Adapter.

Comes Complete With
1 Rhino Cart® TD5-4830Q-F1
2 Inserta Clamps UDN5150
2 Side Clamps TCX5210
2 2.3" Inserta Pliers PTT522K
2 4" Inserta Pliers PTT634K
2 Magnetic V-Clamp Pads T54217
10 Ball Lock Bolts T55057
2 Locating Pins T54201
8 D Stop Bars T50632-01
2 2" Right Angle Brackets T50304
2 4" Right Angle Brackets T50305
4 1.5" Stops T54203
4 2" Stops T54205
8 V-Blocks T54216
4 V-Block Spacers T54211
12 Magnetic Rest Buttons T50737