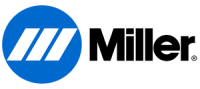 Miller Dimension™ 650 Stationary Package 951638
The Miller Dimension™ 650 Stationary Package is a 650 amp multi-process welder that comes complete with S-74 MPA Plus wire feeder and gun. It can perform MIG, TIG, Stick and submerged arc welding. It is also capable of carbon arc gouging with 3/8 inch diameter carbons. The inverter design means the Dimension 650 is 48% smaller and 200 pounds lighter than its predecessor; the Dimension 652.
The Dimension 650 was specifically designed for the harsh welding environments that are typical with heavy duty welding applications. It has a corrosion-resistant aluminum case and is very electrically efficient. The 652 has excellent stick and Lift-Arc™ TIG arc characteristics. It also has excellent short-arc MIG characteristics for precise thin metal welding performance

Processes
MIG (GMAW)
Stick (SMAW)
DC TIG (GTAW)
Flux Cored (FCAW)
Air Carbon Arc (CAC-A) Cutting and Gouging (through 3/8 in carbons)
Submerged Arc Welding (SAW)

Applications
Heavy Industrial Applications
Fabrication and construction
Heavy manufacturing
MRO maintenance/repair
Pressure tank/vessel fabrication
Shipbuilding
Refineries and foundries
Rail car manufacturing
Earth-moving equipment manufacturing



Features
All-aluminum construction helps the machine resist corrosion for long life.
Exclusive protection input inductor protects machine's performance and reliability from dirty input power.
Wind Tunnel Technology™ - Internal air flow that protects electrical components and PC boards from dirt, dust, debris... greatly improving reliability
Fan-On-Demand™ operates only when needed reducing noise, power consumption, and the amount of airborne contaminants pulled through the machine.
Reduced size and weight results in an easier-to-handle package that exceeds the welding performance of larger, heavier machines. Weighing in at 158 pounds (71.7 kg), the Dimension 650 is 3.5 times lighter than the Dimension 652, making it easier to move around the shop, jobsite, or shipyard. It also uses 40 percent less floor space.
High electrical efficiency and excellent power factor mean that you can get more welding done using less power. On 460-volt input power, the Dimension 650 draws only 43 amps at rated load and can operate on a 50-amp service. Four machines can work at maximum loads simultaneously on a 200-amp service, drawing less amperage than three previous models.
High-quality performance from power-intensive to precise. Knowing quality welds begin with a quality arc, we've significantly improved the performance in all welding processes and made it easy to fine tune the arc to match your personal preferences and welding style.
Gouging mode provides 800 amps of usable power - a full 650 amps of power at 100 percent duty cycle. Perfect for heavy gouging with 3/8-inch carbons.
Three wire modes (GMAW/FCAW/SAW) for simplified setup and optimized arc performance.
Solid and flux-cored wires with gas offer exceptional short-arc MIG precision to weld thin metals with less risk of distortion or burn-through, and premium flux-cored welding with gas.
Flux-cored (self-shielded) welding performance is exceptional, especially with wires commonly found in infrastructure construction.
Sub arc mode provides capability to retrofit into non-digital sub arc applications.
Excellent stick and Lift-Arc™ TIG performance.
Arc control is beneficial when welding with stick and solid wires for easier fine-tuning of tough-to-weld materials and




Comes complete with
Dimension 650 3-phase multiprocess welder
S-74 MPa Plus Wire Feeder
Bernard™ BTB Gun 400 AMP, 15FT
035 - .045 reversible dual V drive rolls
15ft 4/0 work cable with 600A C-Clamp
3 ft gas hose
6 ft 4/0 wire feeder to power source weld cable
Centerfire contact tips, .035 (QTY 3), .045 (QTY 2)
Regulator/flowmeter
FREE Optrel® Panoramaxx CLT Silver auto-darkening welding helmet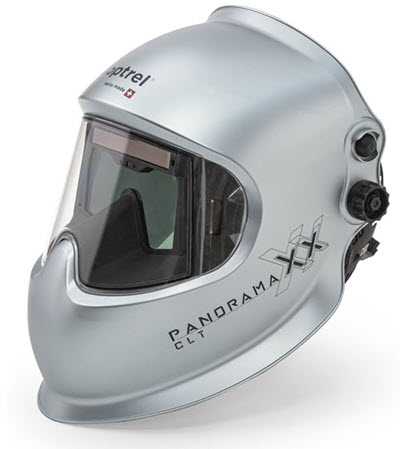 Get a FREE Optrel® Panormaxx CLT Silver auto-darkening welding helmet with the purchase of this Miller® Dimension™ 650 welder. While supplies last. (No substitutions allowed.)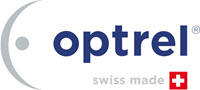 The Optrel® Panoramaxx CLT Silver auto-darkening welding hood features Crystal shade 2.0 light state that is unmatched in the world for color and clarity and provides up to 6X the viewing area of a standard 2" X 4" auto-dark welding lens. The key to this revolutionary technology is the size and shape of the ADF, coupled with the unique Panoramaxx shell design, which allows the welding lens to be positioned closer to your face. The Panoramaxx also has advanced features like SHADETRONIC®, which automatically adjusts the shade level based on the brightness of the arc and True Color, which allows for realistic color perception in light or dark states.

All Panoramaxx welding helmets now come with the revolutionary IsoFit® headgear. It is the only welding headgear in the world that wraps the entire crown of the head with multiple touch points to provide a custom fit like never before. Independent "three dimensional" size, width and height adjustments ensure all day comfort with a secure hold.

The Panoramaxx CLT has a built-in rechargeable battery that does not need replacing. The battery is charged through arc light or when manual charging is necessary, a micro USB charging port. It comes complete with micro USB cable, helmet bag and Oprel's 2+1 warranty.



Features
PANORAMIC FIELD OF VISION - The Panoramaxx CLT offers a 6 times larger field of vision than standard welding helmets – and is still a lightweight at only 21.5 ounces.
CRYSTAL LENS TECHNOLOGY 2.0 - Shade 2.0 light state provides the brightest view of your working environment available anywhere. The natural color and clear optics supplied by CLT increases both safety and efficiency in the workplace.
SHADETRONIC® - Detection of the arc brightness and fully automated shade level adjustment from 4 to 12. Adjusts automatically to the changing light conditions of the current welding method. A sophisticated SHADETRONIC® sensor continuously measures the light intensity of the welding arc and regulates the glare protection progressively and fully automatically.
FADETRONIC - Patented Optrel FadeTronic technology gradually lightens the auto darkening filter after the welding arc is extinguished. The unpleasant afterglow is faded out – especially for high amperage applications. Eye fatigue is significantly reduced, enhancing worker safety. FADETRONIC can be adjusted for a custom user experience.
TRUE COLOR - A specially developed UV/IR filter allows the realistic color perception typical of Optrel®, bringing color to the welder's world. TRUE COLOR passes more colors of the spectrum through compared to standard "green" spectrum welding lenses.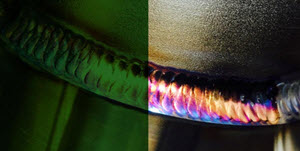 Optrel Re-Charge - With its rechargeable power-pack, changing batteries is no longer necessary. Thanks to the latest solar technology, a rechargeable lithium-polymer battery is recharged either by the welding light or by the ambient light. In addition, the battery can also be charged directly with any USB charger via a micro-USB interface.
5-Point Detection - intelligent sensor control with five sensors. Sophisticated software and clever positioning of four sensors at the corners and one sensor in the upper center ensures the lens is switched on and off perfectly, even in the most difficult lighting conditions or in awkward positions.
IsoFit® headgear sets a new standard of wearing comfort. It is the only product worldwide that can be adjusted in width, length and height – i.e. three-dimensionally – to any head shape, so that the helmet really fits "like a glove."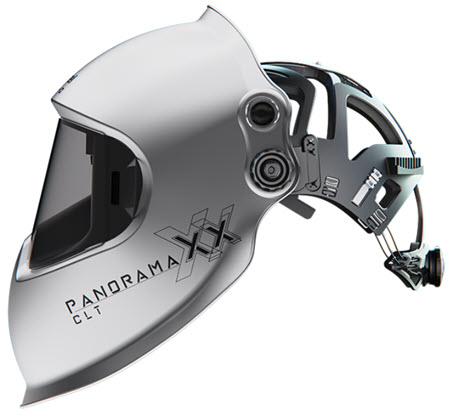 FadeTronic® - gradually lightens lens when switching from dark (welding) to light state to ease eye fatigue.
Sensitivity Adjustment - allows operator to change lens switching sensitivity for varying ambient light conditions or outdoor welding in sunlight.
Grinding Mode - external grind control allows user to switch between welding mode and shade 2 grinding mode quickly and easily.
Delay Function
Out-Of Position Welding is possible with Optrel®'s unique shell design, which has no seams or edges where weld spatter can collect.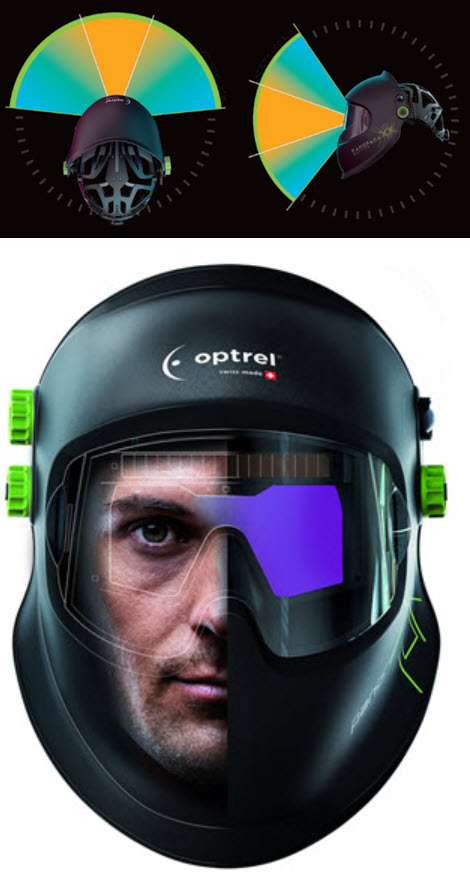 Specs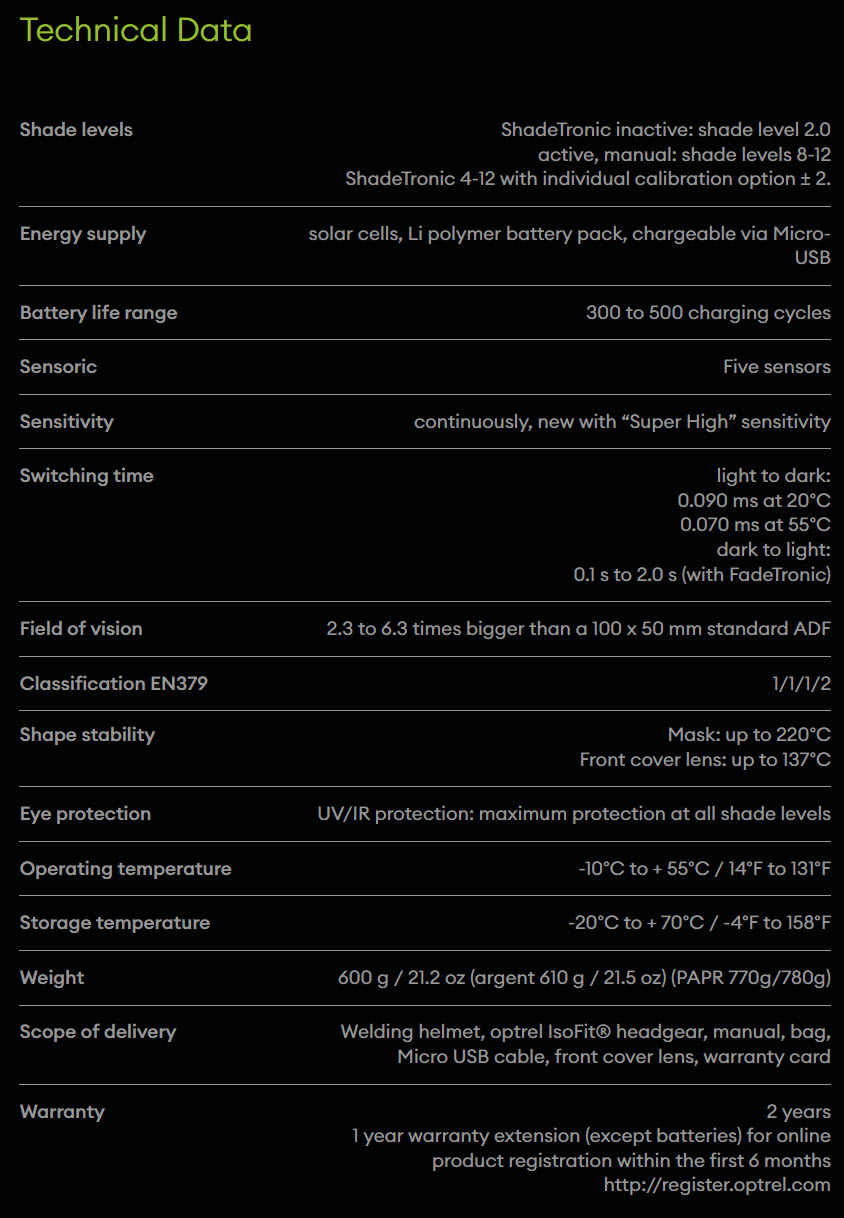 Comes complete with
Micro USB charging cable
Helmet bag
1 extra outside cover plate
2+1 warranty