Victor Journeyman II EDGE 2.0 Welding & Cutting Outfit 0384-2110
Code: 0384-2110
Skip to product information
Mfg Industrial Price: $1,275.47
Unit price
per
FAST & FREE SHIPPING On All Orders Over $50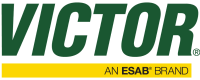 Victor® Journeyman® II EDGE™ 2.0 Welding & Cutting Outfit 0384-2110
Genuine Victor® 540/300 Journeyman® II EDGE™ 2.0 welding & cutting outfit is a heavy duty oxy/fuel kit that uses acetylene as the fuel gas. The Journeyman cuts up to 3/4" thick steel with included size 1 cutting tip or up to 8" material with optional tips. It welds up to 1/8" thick steel with included size 2 welding nozzle or up to 3" with optional nozzles.
The Journeyman® II EDGE 2.0 comes complete with 20 foot Grade T twin welding hose, 1-1-101 cutting tip, W-2 welding nozzle, welding goggles and striker. The WH315FC welding torch, CA2460 cutting attachment come with
ESAB's 10 Year Warranty.
The ESS42 series regulators come with
ESAB's Lifetime Warranty.Applications
Industrial and General Fabrication
Repair and Maintenance
Structural Steel Fabrication
Light Fabrication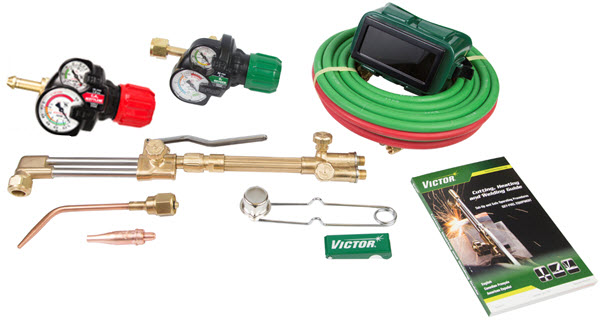 Features
Lifetime Warranty on regulators. 10 Year Warranty on torch handle and cutting attachment
Cuts up to 8 in. (203.2 mm) with optional tips
Welds up to 3 in. (76.2 mm) with optional nozzles
Heavy duty construction
ESS42 EDGE™ 2.0 regulators
WH351FC torch handle with built-in flashback arrestors and reverse flow check valves
CA2460 cutting attachment
Also includes cutting tip, 20 ft. x 1/4in. (7.6 m x 6.4 mm) twin hose, striker and soft-sided goggles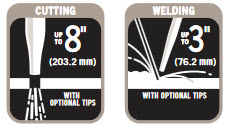 Comes complete with:
WH315FC Torch handle
CA2460 Cutting attachment
1-1-101 Acetylene cutting tip
W-2 Welding nozzle
ESS42 CGA 540 Oxygen regulator
ESS42 CGA 300 Acetylene regulator
20 foot 1/4" twin hose
Striker
Goggles
Built-in flashback arrestors & check valves
Operator's manual



PLUS get a $50 Mastercard gift card from ESAB® with the purchase of this Journeyman® torch outfit. Rebate form must be submitted online HERE no later than January 15, 2024. Offer expires 12/31/23.
Know your acetylene inlet.
If your tank valve has male threads, you should choose this CGA 300 (female) torch kit.

Note: will not fit "B" or "MC" acetylene cylinder.







ESAB®, is committed to putting customers first. The Iron Clad Pledge is ESAB's promise to keep its customers' complete satisfaction at the forefront of everything they do. ESAB's pledge is centered around:


Extensive product warranties
Customer-focused business practices