Lincoln Invertec V160-T TIG Welder K1845-1
Code: K1845-1
Skip to product information
Cyberweld Price
$2,862.00
Cyberweld Price
$2,862.00
Mfg Industrial Price: $2,862.00
Unit price
per
Select Your Free Zone Promo Bonus
FAST & FREE SHIPPING On All Orders Over $50

Lincoln® Invertec® V160-T TIG Welder K1845-1
The Lincoln® Invertec® V160-T is a 160 amp portable DC TIG/Stick welder that is capable of pulsed TIG welding. Weighing in at just 24 pounds, the V160-T is extremely lightweight, yet rugged. It is designed for the field welding of process pipe, alloy fabrication and critical maintenance welds. Simple torch connections and the ability to operate on either 115 volt or 230 volt input power, make the V160-T an excellent choice for welding on-the-go.
The Invertec V160-T has an output range of 5 to 160 amps. DC TIG pulse capability comes standard. This feature is excellent for reducing heat input on thin material or for fast freeze weld puddles when welding on pipe or out-of-position. Built-in high frequency provides smooth TIG arc starts that eliminate the possibility of contaminating the tungsten electrode with base metal surface debris.
The Invertec V160-T comes complete with work cable with ground clamp, Twist-Mate™ TIG torch adapter for OPTIONAL TIG torch, and 10 ft. input power cable with 15 amp and 20 amp plugs.
Processes
DC TIG (GTAW) - with OPTIONAL TIG torch
Pulse DC TIG (GTAW-P) - with OPTIONAL TIG torch
Stick (GMAW) - with OPTIONAL electrode holder and cable

Applications
Distillery
Glass Industry
Maintenance & Repair
Pharmaceutical Equipment
Pipeline & Offshore
Piping
Power Generation
Power Plants
Process Piping
Railing Industry



Features
Rugged, Lightweight & Portable
Weighing just 24 pounds, the V160-T can go just about anywhere.
Flexible 115 volt or 230 volt input power options
Pulse Control
Built-in pulsing functions help minimize heat input on thin materials, and provide for a faster freezing weld puddle for uphill welding on curved surfaces such as process piping.
The TIG pulser also helps moderate filler metal deposition for consistent bead appearance.
High-Frequency TIG Starting
Makes it easy to establish an arc under a variety of conditions.
Enhances quality by minimizing the potential for weld contamination created by tungsten inclusions in the weld.
Ideally Suited for External Operations
The Invertec V160-T's light-weight and adjustable shoulder strap enable welding in the field.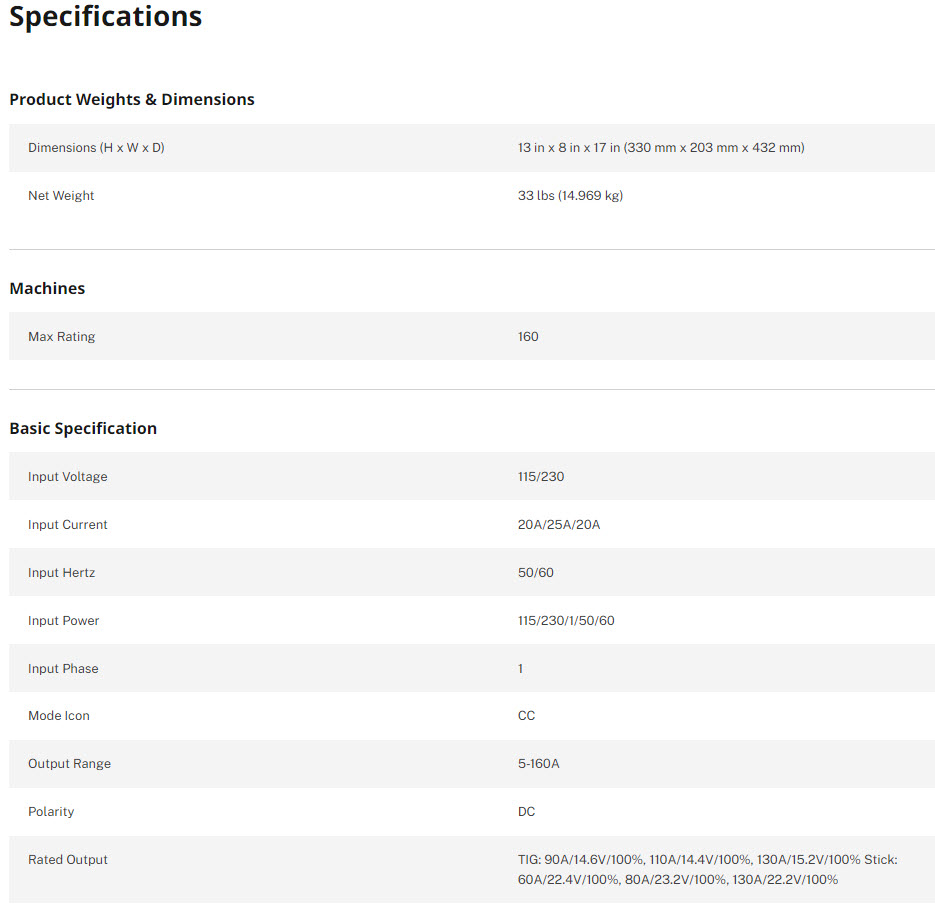 PLEASE NOTE: This is a DC TIG welder ONLY. It CANNOT TIG weld aluminum.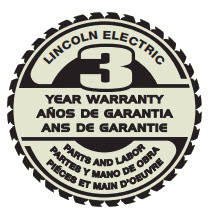 Comes complete with
Comes complete with
Invertec® V160-T TIG/Stick welder
Work clamp and cable, 10 ft. (3.0 m) with Twist Mate™ plug
Fully adjustable shoulder strap
120/230V input cord, 6.6 ft. (2 m) with a 120V 15 Amp plug
Extra 120V 20 Amp plug
FREE Lincoln® Viking™ 1840 Black auto-darkening welding helmet.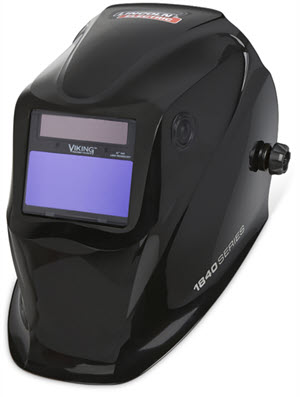 Get a FREE Viking™ 1840 Black auto-darkening welding helmet with purchase of this Invertec® 160-T TIG welder. While supplies last. (No substitutions allowed.)
Genuine Lincoln® Viking™ 1840 Black auto darkening welding helmet now features fully digital controls with true color optics and a 7.0 square inch viewing area. The 1840 digital comes with Lincoln's exclusive 4C® lens technology. Proprietary 4C liquid crystal display passes more true color through the lens in both light and dark states to create the clearest view of your work piece. The Viking 1840 digital welding hood has a perfect 1/1/1/1 optical clarity rating, meaning lens distortion and blurriness are completely eliminated, shade is consistent through every square inch of the lens and the welding arc looks crisp and clear at any angle.
Product enhancements also include an expanded range variable shade 7-13 dark state, four arc sensors and DC TIG weld rating down to 2 amps. The Lincoln Viking 1840 digital auto darkening welding hood comes complete with Lincoln's pivot-style headgear, for even weight distribution, and has a five year lens warranty.
Viking™ 1840 Features
4C™ lens technology
Optimizes contrast and clarity in welding and light states - reducing eye strain and operator fatigue



Wide Viewing Area -
The 7.0 square inch auto darkening lens provides a up to a 16% larger field of view when compared to other helmets in its class
Perfect 1/1/1/1 Optical Clarity
This rating is determined by measuring blurriness, distortion, shade consistency and angle uniformity of the auto-darkening welding lens



Four arc sensors
For improved welding arc detection from any angle
Gen. 3 Pivot-style headgear
Four points of contact help reduce fatigue
Two adjustable top head supports distribute weight and improve balance
Orientation adjustment pin for optimal resting position
Soft front headband reduces pressure and absorbs moisture
Polymer backpad increases comfort and stabilizes helmet position
Simple ratchet tightening mechanism for comfortable, secure fit
DC TIG rated to 2 amps -
Outstanding performance on low amperage DC TIG welding applications.
Low-Profile External Grind control -
Conveniently switch between welding mode and grinding shade 3.5 without removing helmet
Fully Digital Internal Controls
Moisture and abrasion resistant push button LED IU controls
Simple, intuitive adjustments for precise and consistent performance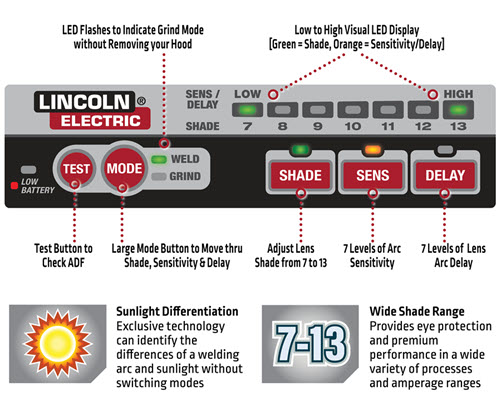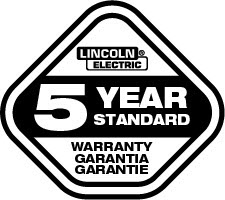 Comes complete with
Helmet bag
5 outside cover lenses
2 inside cover lenses
Mag lens holder
Five year lens warranty