Lincoln Precision TIG 225 Ready Pak K2535-2
Code: K2535-2
Skip to product information
Cyberweld Price
$5,612.00
Cyberweld Price
$5,612.00
Mfg Industrial Price: $5,612.00
Unit price
per
Select Your Free Zone Promo Bonus
FAST & FREE SHIPPING On All Orders Over $50

Lincoln® Precision TIG 225 TIG Welder Ready Pak® K2535-2
The Lincoln® Precision TIG® 225 Ready Pak® K2535-2 is a complete 230 amp AC/DC TIG welding package that includes TIG torch, remote Foot Amptrol™ and undercarriage. With an operating range of 5 to 230 amps, the Precision TIG 225 gives you the most job flexibility of any TIG welder in its class. Patented Micro-Start™ II technology delivers unmatched low amperage TIG arc starts and precise crater control. When welding aluminum, AC Auto Balance® automatically optimizes the cleaning versus penetration ratio for the perfect weld, every time. When welding thinner material, built-in TIG pulse reduces arc heat input, minimizing distortion.
The Precision TIG welder is outstanding for AC aluminum TIG welding. Steel and stainless steel can be welded in the DC TIG mode. It operates on 208/230 volt input power and comes complete with everything you need to start TIG welding, except filler metal and shielding gas. The Precision TIG 225 provides up to 230 amps of TIG welding output and is capable of welding up to 5/32" diameter stick electrodes, including Fleetweld® 5P+, with OPTIONAL electrode holder and cable.
Processes
AC/DC TIG (GTAW)
AC/DC Pulsed TIG (GTAW-P)
Stick (GMAW)

Applications
Automotive/Motorsports
Vocational Schools
Home/Shop
General Fabrication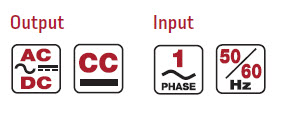 Features
Understorage cart
Adds easy shop mobility and provides shielding gas bottle platform, handy storage drawer and two filler rod holders.
Easy-to-use operator interface
Select mode, polarity and begin welding.
Patented Micro-Start™ II Technology
Delivers extremely stable low amperage starting, welding and cratering for both AC and DC welding.



AC Auto Balance®
Automatically provides for the optimal mix of cleaning and penetration.
TIG pulser
Minimizes material distortion from excessive heat input.
Also helps moderate filler metal deposition for consistent bead appearance.
Superior stick performance
Offers outstanding stick welding capabilities, including the use of up to 5/32 in. (4.0 mm) electrodes even with Fleetweld® 5P+ (E6010).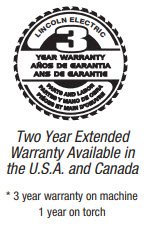 Comes complete with
Precision TIG® 225 TIG Welder
Understorage cart with shielding gas bottle platform, handy storage drawer and two filler rod holders
Torch Parts Storage Compartment
Torch Hanger
10 ft. (3.0 m) Work Cable & Clamp
Removable Lift Eye
9 ft. (2.7 m) Input Power Cord with NEMA 6-50P Plug
NEMA 6-50R Receptacle
PTA-17 150 amp TIG torch w/ 1 pc. cable 12 ft. (3.6 m) Ultra-Flex™ Cable Twist Mate Adapter
3/32 in. (2.4 mm) 2% Ceriated Tungsten
Collet & Collet Body
7/16 in. (11.1 mm) Alumina Nozzle
Long Back Cap
Gas Regulator with Hose
Remote Foot Amptrol™ with 25 ft. (7.6 m) cable assembly (K870)
TIG Procedure Guide GTAW (TIG) Handbook