Mfg Industrial Price: $177.08
Unit price
per
Size::Large: 1/2 inch to 1-5/16 inch diameter
FAST & FREE SHIPPING On All Orders Over $50

Flange Wizard® Large Flange Aligner With Threaded Pins 38240-TL
Genuine Flange Wizard® 38240-TL flange aligner with threaded pins fits holes 1/2" to 1-15/16" in diameter. It has two built-in levels allowing proper alignment of the flange either horizontally or vertically. Dual threaded connection means that welders can now align and tack weld flange without fear of knocking the aligner off the pipe, as with traditional levels. The Pipe Flange Aligner saves valuable fit up time. In most cases, it cuts the fit up time in half.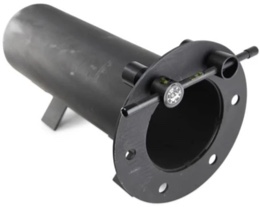 Features
Pins fit holes 1/2" to 1-15/16" in diameter.
Pins have double threads for fast set up
All models have one pin that has a 360 vial for easier vertical leveling that just 'snaps in and out for easy replacement.
Saves valuable fit up time
Machined from steel for a sturdy long lasting life