Lincoln Flextec 350X PowerConnect / Activ8X Pipe One Pak K4935-2
Code: K4935-2
Skip to product information
Cyberweld Price
$12,922.95
Cyberweld Price
$12,922.95
Mfg Industrial Price: $16,530.00
Unit price
per
FAST & FREE SHIPPING On All Orders Over $50

Lincoln® Flextec® 350X PowerConnect® / Activ8X® Pipe One Pak® K4935-2
The Lincoln® Flextec® 350X PowerConnect® / Activ8X® Pipe One Pak® is a complete 350 amp multi-process welder / voltage-sensing wire feeder package for field pipe welding. The system includes a Flextec 350X PowerConnect® multi-process welder that is capable of MIG, Pulsed MIG, Flux-cored, DC TIG and Stick welding. It also comes standard with an Activ8X® Pipe voltage sensing wire feeder with CrossLinc®, and Magnum® PRO Curve™ HDE™ MIG welding gun.
Built-in CrossLinc® technology included in both the welding power source and the feeder means that the Flextec 350X communicates with the Activ8X wire feeder directly through your welding leads. Full remote amperage and voltage control is achieved without the use of a separate remote-control cable. This completely eliminates the need to return to the welding machine to make output voltage adjustments.
The Flextec 350X PowerConnect® is built to be a rugged performer on the harshest job sites. It is rated IP23 for welding in outdoor weather conditions. The 350X also comes with Lincoln's Desert Duty® certification, meaning it can keep welding in temperatures up to 131 degrees F. Heavy duty alloy carrying handles, powder-coated aluminum case and shock absorbing rubber feet make this an impact resistant power source that will stand up to abuse.
The Flextec 350X PowerConnect operates on virtually any electrical power in the world, 200-575 volt, single or three-phase. It comes with Tweco®-style cable receptacles and Lincoln's three-year warranty.
The Activ8X wire feeder is specifically designed for pipe welding. It allows you to take Lincoln's industry-leading root-to-cap weld processes, including STT® and Pulsed MIG, right into the field. Additionally, the Activ8X comes standard with TVT™. True Voltage Technology compensates for voltage drops common with long welding cable runs. TVT automatically detects welding voltage variations and adjusts on-the-fly, to provide a smooth consistent arc, even if you are far away from the welder itself. The Activ8X is rated at 275 amps @ 60% duty cycle and can handle welding wires up to 3/64" diameter. It features Lincoln's MAXTRAC® wire drive system, to ensure smooth wire feeding and excellent electrical contact with your welding gun. It comes complete with Magnum® PRO Curve 250 amp MIG gun with 15 foot leads and .035/.045 drive rolls for solid wire.
Processes
MIG (GMAW)
Pulsed MIG (GMAW-P
STT® (Surface Tension Transfer)
Flux-Cored (FCAW)
DC TIG (GTAW)
Stick (SMAW)
Air-Carbon Arc Gouging (CAC-A)

Applications
Field Pipe Welding
Fabrication
Construction
Shipbuilding
Structural



Features
Activ8X® with CrossLinc® Included in Package
Includes 15 ft. Magnum® PRO Curve 250 MIG Gun
Optimized arc performance designed specifically for root-to-cap pipe welds, including STT Field and CV/Pulse modes.
Ideal pulse arc for your pipe welding needs - Activ8X pipe can automatically adjust the pulse waveform for superior arc performance on fill and cap applications.
Fine-tuned weld modes optimized to field pipe welding maximize performance based on the industry's common filler metal, wire diameters, and gas mixtures.
Maxtrac® Wire Drive System Heavy-duty cast aluminum wire drive system provides reliable feeding and durability


CrossLinc® with True Voltage Technology™
CrossLinc® allows for amperage and voltage control at the welding arc to improve control of your operation.
No need for an additional control cable communication occurs directly over the weld cables.
True Voltage Technology™ compensates for voltage drop across the welding circuit.
TVT™ will measure the voltage drop and adjust the power source to compensate for the difference between the desired voltage and actual voltage at the weld.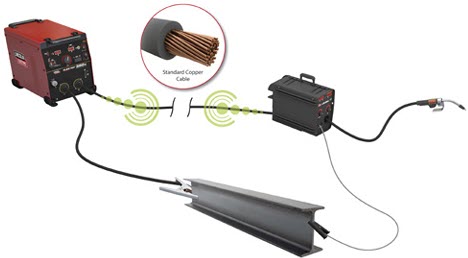 Flextec® 350X PowerConnect® Multi-Process Power Source for all Your Welding Needs
Optimized stick welding for both cellulosic and low hydrogen electrodes.
Touch-Start TIG® for reducing contamination during starts without high frequency.
Compatible with ArcLink® digital feeders, CrossLinc® and 42V analog, and GMAW and FCAW.
Performs STT™ (Surface Tension Transfer) when paired with a Lincoln Activ8X™ pipe wire feeder.
Performs pulsed-MIG welding when paired with a Lincoln ArcLink® digital wire feeder


Field Proven Ruggedness and Durability
Engineered for outdoor use and harsh environments.
IP23 rated for use in outdoor weather conditions.
Desert Duty rated for operation at temperatures up to 55° C (131° F).
Trayed and potted PC boards to help withstand welding dust and humidity.
Smart fans run at variable speeds to keep internal machine components cool.
Tough alloy handles for lifting and impact protection.
Lightweight aluminum powder painted case for rust protection.
Shock Absorbing Rubber Feet for impact protection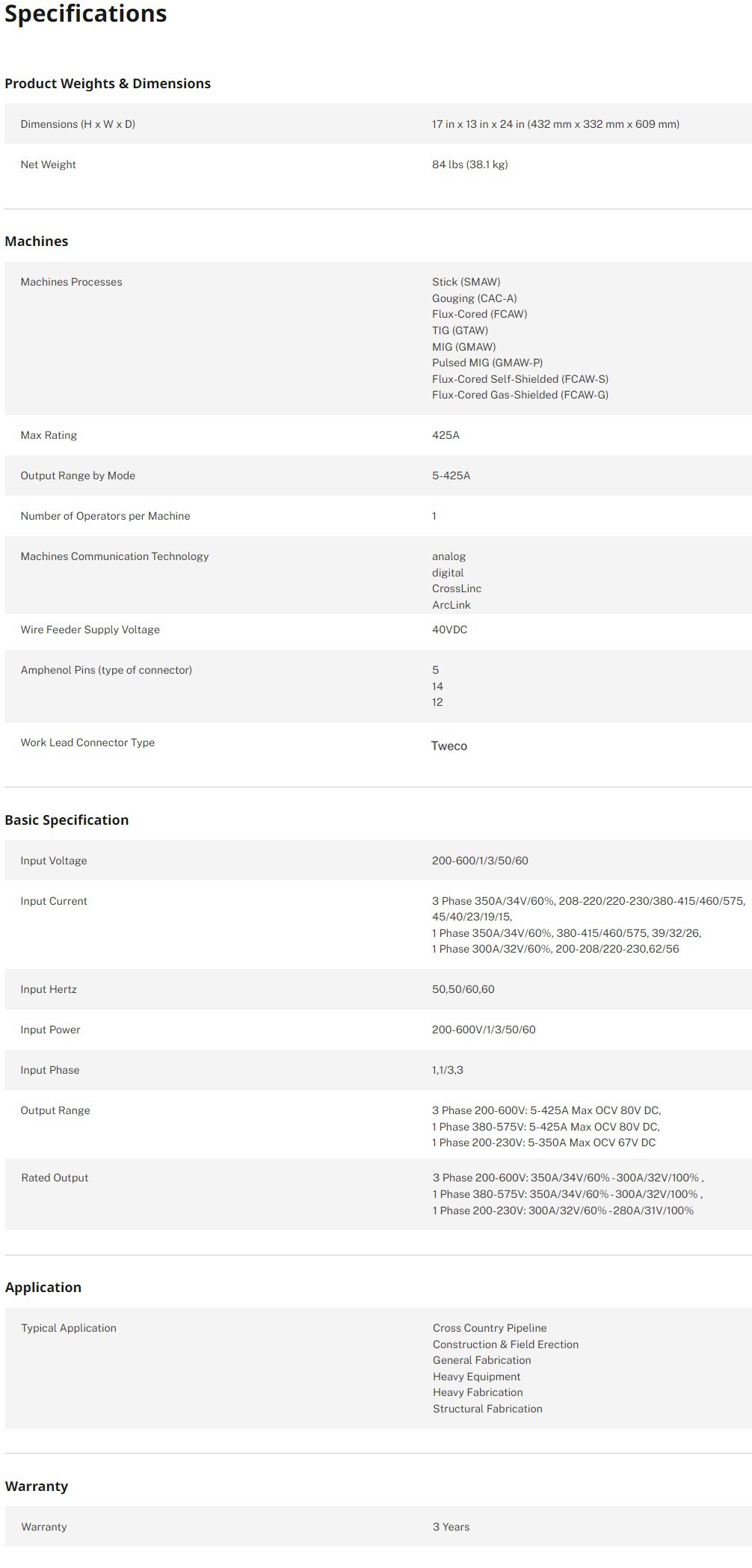 PLEASE NOTE: This is a DC TIG welder ONLY. It CANNOT TIG weld aluminum.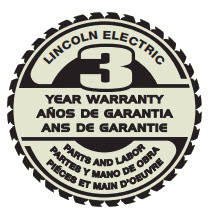 Comes complete with
Flextec® 350X PowerConnect® Multi-Process Welder with Tweco®-style receptacles
8.5ft 4 conductor/ 8 AWG input power cable
Activ8X® Pipe voltage-sensing wire feeder K4717-1
Work Lead 2/0, Tweco® to GC500, 15ft. K4835-2/0-15
Magnum® PRO Curve™ HDE™ 250 Welding Gun K4531-2-10-45
Drive Roll Kit Combination .035 in / .045 in Solid Wire KP1696-1
Copper Plus® Contact Tip - 350A, Tapered, .035 in (0.9 mm) - 10/pack KP2744-035T
Magnum® PRO Nozzle - 350A, Thread-on, Flush, 3/8 in (9.5 mm) ID KP2742-1-38F