Cyberweld Price
$1,715.00
Cyberweld Price
$1,715.00
Mfg Industrial Price: $1,715.00
Unit price
per
Select Your Free Zone Promo Bonus
FAST & FREE SHIPPING On All Orders Over $50

Lincoln® Invertec® V155-S Stick Welder K2605-1
The Lincoln® Invertec® V155-S is a 155 amp DC stick welder that operates on both 115 and 230 volt input power. Weighing in at just 15 pounds, the V155-S is extremely lightweight. On the jobsite, this welder can be plugged into a portable generator without sacrificing performance or arc quality. The V155-S delivers outstanding results, even when operating off a 200 ft., 230 volt extension cord.
The Invertec V155-S has an output range of 5 to 155 amps. Stick welding features include Auto-Adaptive Arc Force, Automatic Hot Start and two stick welding modes - SOFT and CRISP - to provide the best arc characteristics for whatever stick welding electrode you are using. It also features Touch Start TIG® mode for easy TIG arc starts, with OPTIONAL TIG torch, without the use of high frequency.
The Invertec V155-S comes complete with electrode holder with cable, work cable with ground clamp and 6.6 ft. input power cable with 15 amp and 20 amp plugs.
Processes
Stick (SMAW)
DC TIG (GTAW) - with OPTIONAL TIG torch

Applications
Distillery
Glass Industry
Maintenance & Repair
Pharmaceutical Equipment
Pipeline & Offshore
Piping
Power Generation
Power Plants
Process Piping
Railing Industry



Features
Two stick modes, SOFT and CRISP
Provide the right arc characteristics for different types of electrodes.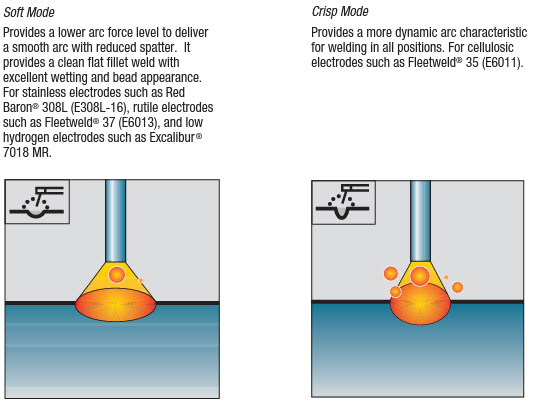 Fan-As-Needed™ (F.A.N.™)
Reduces noise and dust inside the machine.
Auto-Adaptive Arc Force
Minimizes electrode sticking in the puddle without compromising arc stability or increased spatter.
Automatic Hot Start
Boosts the current during starting to make striking an arc easier.
Touch Start TIG® Mode
Smooth TIG arc starts without the use of high frequency. Simply touch the tungsten to the work piece and lift.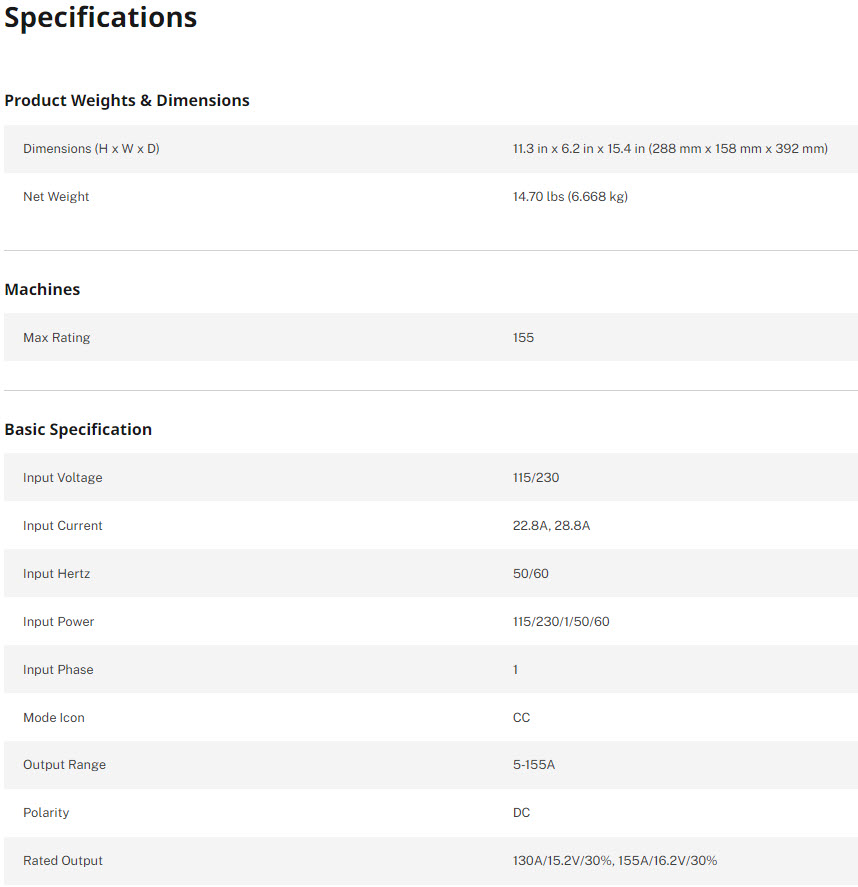 PLEASE NOTE: This is a DC TIG welder ONLY. It CANNOT TIG weld aluminum.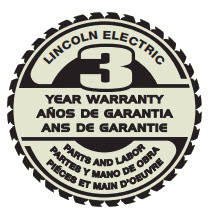 Comes complete with
Comes complete with
Invertec® V155-S TIG/Stick welder
Stick electrode holder and cable, 10 ft. (3.0 m) with Twist Mate™ plug
Work clamp and cable, 10 ft. (3.0 m) with Twist Mate™ plug
Fully adjustable shoulder strap
120/230V input cord, 6.6 ft. (2 m) with a 120V 15 Amp plug
Extra 120V 20 Amp plug