Mfg Industrial Price: $11.52
Unit price
per
FAST & FREE SHIPPING On All Orders Over $50

3M™ Cubitron™ II Flap Disc 967A 4 1/2" X 5/8-11 Type 27 Grade 60+ with Hub 55603
Genuine 3M™ Cubitron™ II 967A grade 60+ 4 1/2" flap disc with hub grinds, blends and finishes with more speed and less pressure than any other flap disc on the market. The key to Cubitron™ II's outstanding performance is 3M's precision-shaped grain technology. Unlike most ceramic grinding abrasives, Cubitron™ II triangle-shaped grain stays sharp for the life of the disc. The abrasive grain is also electronically oriented on the surface of the disc to continuously form sharp abrasive "peaks" and to provide more abrasive material than competitive brands.
The Cubitron™ 967A flap disc is ideal for grinding, weld removal, deburring and finishing. It features grade 60+ (60 grit) abrasive material with a grinding aid to help keep the disc cool on heat sensitive metals. Flaps are backed with Y-weight poly-cotton which exposes more abrasive material as the disc is worn away and provides flexibility while working with unusual shapes. The 967A is a Type 27, depressed center flap disc with a 5/8-11 quick change hub. It operates on 13,300 max RPM.

Applications
Grinding
Blending
Finishing
Spatter removal
Surface prep
Beveling
Deburring
Edge chamfering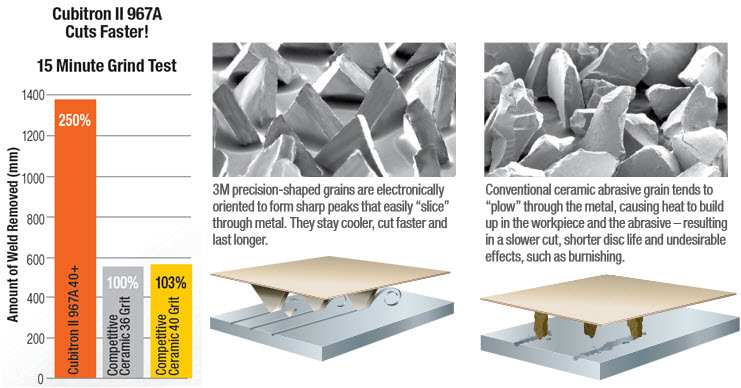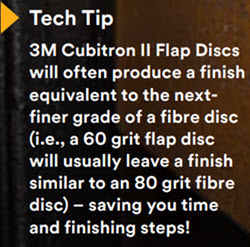 Total 5 star reviews: 1
Total 4 star reviews: 0
Total 3 star reviews: 0
Total 2 star reviews: 0
Total 1 star reviews: 0
Great product, great service

This was the first time ordering from Cyberweld. I am always leery of ordering from new online stores because there are so many scammers out there. Well...I can tell you, this place is legit and has great customer service! I work for a machining company. I couldn't find a place online to enter our tax ID for exemption so I emailed customer service. They told me to place my order, then email them my Tax form along with my order number and they would adjust the tax on my order. Within 15 minutes of sending them my information, they had my order all fixed up!

We use a lot of these Flap Discs in our shop. From other vendors, we pay over $8 each - and that's with our discount. I saw that Cyberweld had a 20% off sale, which brought these to $6 something.... so I bought 40 of them to stock us up! I'm assuming these are good since we have been using about a 10 pack of these in our shop every week with no complaints.

When I get some time, I will be surfing the Cyberweld website to see what else they have at better prices than I get from my other vendors. If you are like me and leery about buying from new places, don't hesitate on this one. They are legit. They have decent prices, great sales, timely shipping and couteous customer service which I REALLY appreciate!
Reviews Loaded
Reviews Added