Mfg Industrial Price: $10.76
Unit price
per
FAST & FREE SHIPPING On All Orders Over $50

3M™ Cubitron™ II Giant Flap Disc 967A 4 1/2" X 7/8" Type 27 Grade 40+ 55635
Genuine 3M™ Cubitron™ II Giant Flap Disc 967A grade 40+ 4 1/2" is 25% thicker than standard flap discs, reducing labor costs through longer life and fewer change outs. The Giant 967A grinds, blends and finishes with more speed and less pressure than any other flap disc on the market. The key to Cubitron™ II's outstanding performance is 3M's precision-shaped grain technology. Unlike most ceramic grinding abrasives, Cubitron™ II triangle-shaped grain stays sharp for the life of the disc. The abrasive grain is also electronically oriented on the surface of the disc to continuously form sharp abrasive "peaks" and to provide more abrasive material than competitive brands.
The Cubitron™ 967A flap disc is ideal for grinding, weld removal, deburring and finishing. It features grade 40+ (40 grit) abrasive material with a grinding aid to help keep the disc cool on heat sensitive metals. Flaps are backed with Y-weight poly-cotton which exposes more abrasive material as the disc is worn away and provides flexibility while working with unusual shapes. The Giant 967A is a Type 27, depressed center flap disc with a 7/8 inch (no hub) arbor. It operates on 13,300 max RPM.

Applications
Grinding
Blending
Finishing
Spatter removal
Surface prep
Beveling
Deburring
Edge chamfering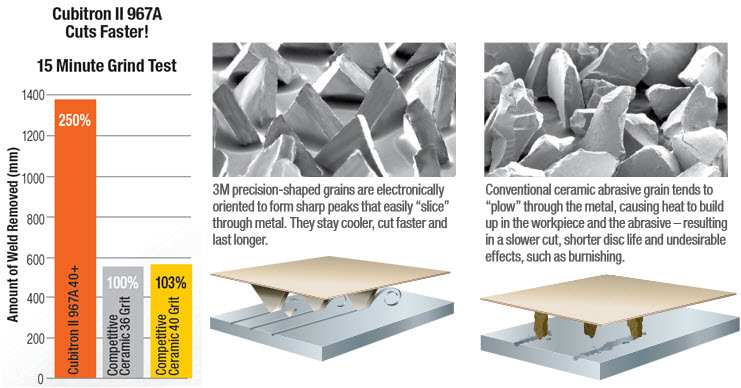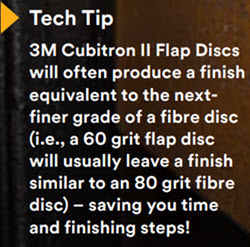 Total 5 star reviews: 2
Total 4 star reviews: 0
Total 3 star reviews: 0
Total 2 star reviews: 0
Total 1 star reviews: 0
Best flap disc I have ever used!

I have tried almost every flap disk out there. These are the best I have ever used. Worth every penny. I will never buy anything but these Cubitron's again.

Gotta have

If you need to knock down a weld this is the disk to get. I've tried a lot of different brands and types. This is the best and at a great price. And one of the best things, it lasts the best also.
Reviews Loaded
Reviews Added