Mfg Industrial Price: $102.37
Unit price
per
FAST & FREE SHIPPING On All Orders Over $50

Flange Wizard® Small Magnetic Centering Head 53025-M
Genuine Flange Wizard® Small Magnetic Centering Head is designed to identify and mark a center-line at any angle around the circumference of 1" ID or larger steel pipe or tank. Degrees are listed in 2.5 degree increments and inscribed by laser on the dial, making them easy to read. Magnets in the legs allow you to take accurate, hands free measurements and easily move the centering head across the circumference of the pipe. The new hardened center punch with safety head marks your set position by tapping with a hammer. Degree dial has a built in dial for leveling the centering head at various angles. Meant for the person who works with smaller diameter pipe (1" and larger). Fire protection, fence and gate builders, live stock pens and corrals, and different alignment jobs in the automotive field are some of the common uses for this centering head.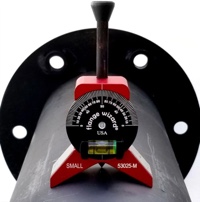 Features
For 1" ID and larger steel pipe
Magnetized legs allow you to rotate centering head around the pipe and record your measurements hands free.
Built in center punch magnet keeps pin in centering head
Easy to read dial with 2.5 degree increments
Built in vial for leveling at different angles
Center punch and vial are replaceable allowing longer product life



Total 5 star reviews: 1
Total 4 star reviews: 0
Total 3 star reviews: 0
Total 2 star reviews: 0
Total 1 star reviews: 0
Flange Wizard centering Head

I have used this tool in the past and needed one for my home shop. I have several projects where I am using structural pipe for legs of a barn and a RV cover and needed a way to confirm the angle that brackets are attached to the pipe. This angle finder works great for this task. I have fabricated several of the legs so far and have used this angle finder while locating the points around the pipe to weld brackets on with good accuracy.
Reviews Loaded
Reviews Added