Mfg Industrial Price: $1,207.70
Unit price
per
Inlet:CGA 705 (Ammonia, Dimethylamine, Trimethylamine)
Outlet:Stainless Steel Nipple with 1/4 inch MNPT
FAST & FREE SHIPPING On All Orders Over $50

Harris® HP 742 CGA 705 Two Stage Stainless Steel Corrosive Gas Regulator 742015705B
The Harris® HP 742-015-705-B specialty gas regulator is a
two stage
, stainless steel, high purity regulator with CGA 705 (corrosive gas) inlet and stainless steel 1/4 inch MNPT outlet. It features a 316L stainless steel diaphragm and a one piece encapsulated seat with sintered filter to prevent contamination. The HP 742 is recommended for gas purity levels of Grade 6.0 (99.9999%) and higher. It is ideal for laboratory and research applications where corrosive or ultra high purity gases are being used. Is is designed for use in gas chromatography, EPA protocol, laser gas and emission monitoring.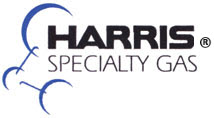 Features
Two Stage design ensures constant delivery pressure, regardless of gas cylinder pressure drop.
Stainless Steel CGA 705 Corrosive Gas Inlet (Ammonia, Dimethylamine, Trimethylamine).
Stainless Steel 1/4 inch male NPT outlet (installed)
1-11/16 inch 316L stainless steel diaphragm eliminates contamination from diffusion or outgassing
316L stainless steel body and fittings; chrome plated bonnet
One piece encapsulated seat design includes a sintered filter to protect the seat from particulate contamination
2 inch dual scale stainless steel gauges (psi/bar)
Designed to 1 x 10-9 cc/sec. inboard helium leak rate to maintain gas purity levels
Front or back panel mountable
Maximum inlet 3000 PSIG
External relief valve standard
Available with delivery pressures up to 500 PSIG. (Please specify above)