Mfg Industrial Price: $450.35
Unit price
per
Acetylene Inlet:CGA 510 (Male)
FAST & FREE SHIPPING On All Orders Over $50


Harris® V Series™ Ironworker® Deluxe Medium Duty Welding and Cutting Outfit 4400372
The Harris® V Series™ Ironworker® VH100C801-510 deluxe medium duty welding & cutting outfit features Victor&reg-style cutting attachment and torch handle. The VH13 cutting attachment accepts standard Victor&reg 3 series cutting tips. The VH10 torch handle is suitable for Victor® W-1 series welding nozzles and MFA-1 heating tips. Harris Model 801 oxygen and acetylene regulators are built with one-piece enclosed seats for more durability and come with a
7 year warranty.
Model VH10 torch handle features twin-tube, silver-brazed connections for maximum safety and durability when welding, brazing, cutting, or heating with acetylene and is equipped with FlashGuard® check valves to prevent reverse gas flows. Model VH13 cutting attachment features an all gas in-tube mixer which allows for easy maintenance.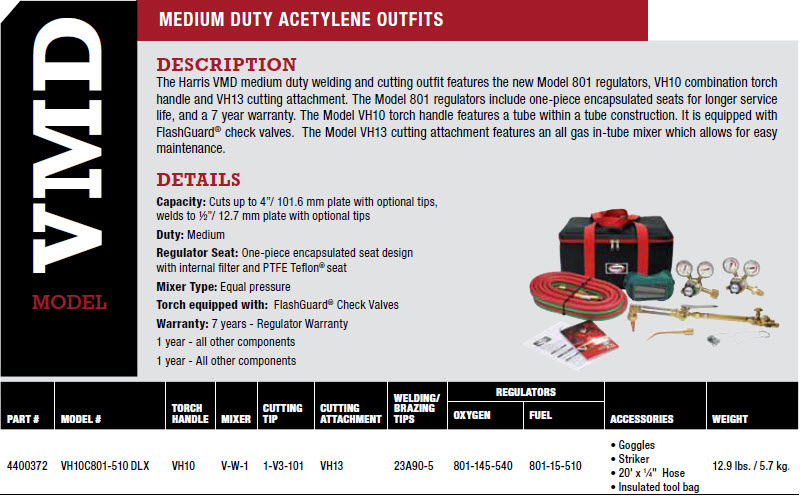 Know your acetylene inlet.
If your tank valve has female threads, you should choose this CGA 510 (male) torch kit. Note: will not fit "B" or "MC" acetylene cylinder.