Mfg Industrial Price: $623.00
Unit price
per
FAST & FREE SHIPPING On All Orders Over $50

Hobart® Stickmate™ 160i Stick Welder 500570
The Hobart® Stickmate™ 160i is a 160 amp DC stick welder that runs on 120 volt or 240 volt input power and weighs only 15 pounds. The Stickmate 160i is nearly 100 pounds lighter than previous Stickmate welders and features a smooth, consistent DC welding arc. It produces up to 160 amps of DC welding output with 240 volt input power or up to 80 amps of welding output on 120 volt input power.
The Stickmate 160i comes complete with electrode holder with 10 ft. lead cable, ground clamp with 10 ft. cable and MVP™ (Multi-Voltage Plug) adapters for 120 volt and 240 volt input power.

Processes
DC Stick (SMAW) Welding

Applications
DIY
Farms
Ranches
Maintenance/repair
Metal art

Features
Hot Start™ technology: Provides easy, quick and reliable arc starts.
Infinite amperage control: Precise and accurate amperage control and heat output. Adjust output by as little as one-amp increments.
Adjustable shoulder strap: Easy to carry and move.
Dual-voltage capability with MVP adapters: Allows connection to 120 or 240 V receptacles without tools choose the adapter cord with the right plug that fits the receptacle, and connect it to the power cord with the L6-30R twist lock.

Specs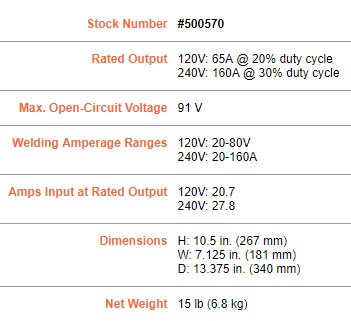 Comes complete with
Hobart® Stickmate™ 160i DC stick welder
10 ft. (3 m) electrode cable with heavy-duty holder
10 ft. (3 m) work cable with clamp
6.5 ft. (2 m) power cord with MVP™ adapters for
120 V and 240 V plug


Total 5 star reviews: 16
Total 4 star reviews: 2
Total 3 star reviews: 0
Total 2 star reviews: 0
Total 1 star reviews: 0
Good welder

Works good at 120 v with 3/32 rod haven't tried anything else yet

Really good welder

This is the best welder I bought, really good on 240v welding 3/8 metal.

A1

This is a welding Machine.!! It's not made to dog like I do my Lincoln welder, but it is awesome by all accounts!

Hobart 160i stick

Burns 1/8 mild steel like a bigger machine. Yet to try l/h. Sure it will be fine. Would recommend this machine to my friends.

Works great

If used correctly there should be no problem welding a multitude of projects. Great for newcomers to SMAW welding.
Reviews Loaded
Reviews Added