Cyberweld Price
$3,674.00
Cyberweld Price
$3,674.00
Mfg Industrial Price: $3,674.00
Unit price
per
Select Your Free Zone Promo Bonus
FAST & FREE SHIPPING On All Orders Over $50

Lincoln® Bulldog® 5500 Engine Driven Welder K2708-2
The Lincoln® Bulldog® 5500 is a 140 amp AC engine driven welder and 5,500 watt AC generator. AC welding output for welding steel, stainless steel, cast iron or hardfacing projects with up to 1/8 in. (3.2 mm) stick electrode. Plug in Lincoln® POWER MIG® 140C welder directly to the Bulldog® 5500 for high productivity wire welding. No adapters needed.
The Bulldog 5500 produces up to 5,500 peak watts of single-phase AC auxiliary power. Its compact size makes it ideal for hauling in the back of your pickup truck. Low-Lift™ grab bars allow for more leverage while lifting machine on and off your truck. The Kohler® CH395 four-cylinder gasoline engine produces 8.9 horsepower at 3,600 RPM.

Processes
Stick (SMAW)

Applications
Home Use
Farm & ranch
Maintenance welding

Features:
Low-Lift™ Grab Bars -
More leverage when lifting on and off truck.
Extra protection against machine damage.
Smooth AC Welding Output
° For a broad range of stick electrode types.
MIG, and flux-cored capable (with optional equipment).
5,500 Watts Peak Single-Phase AC Generator Power
Peak for motor starting.
4,000 watts continuous power for generator or inverter welder.
Lights, grinder, power tools.
8.9 HP Kohler Gasoline Engine
1 cylinder, 4 cycle overhead valve air-cooled design with electric & recoil start
1.9 gallon tank.
Only 0.74 gallons/hour at 100 amps DC, 25V, 100% duty cycle.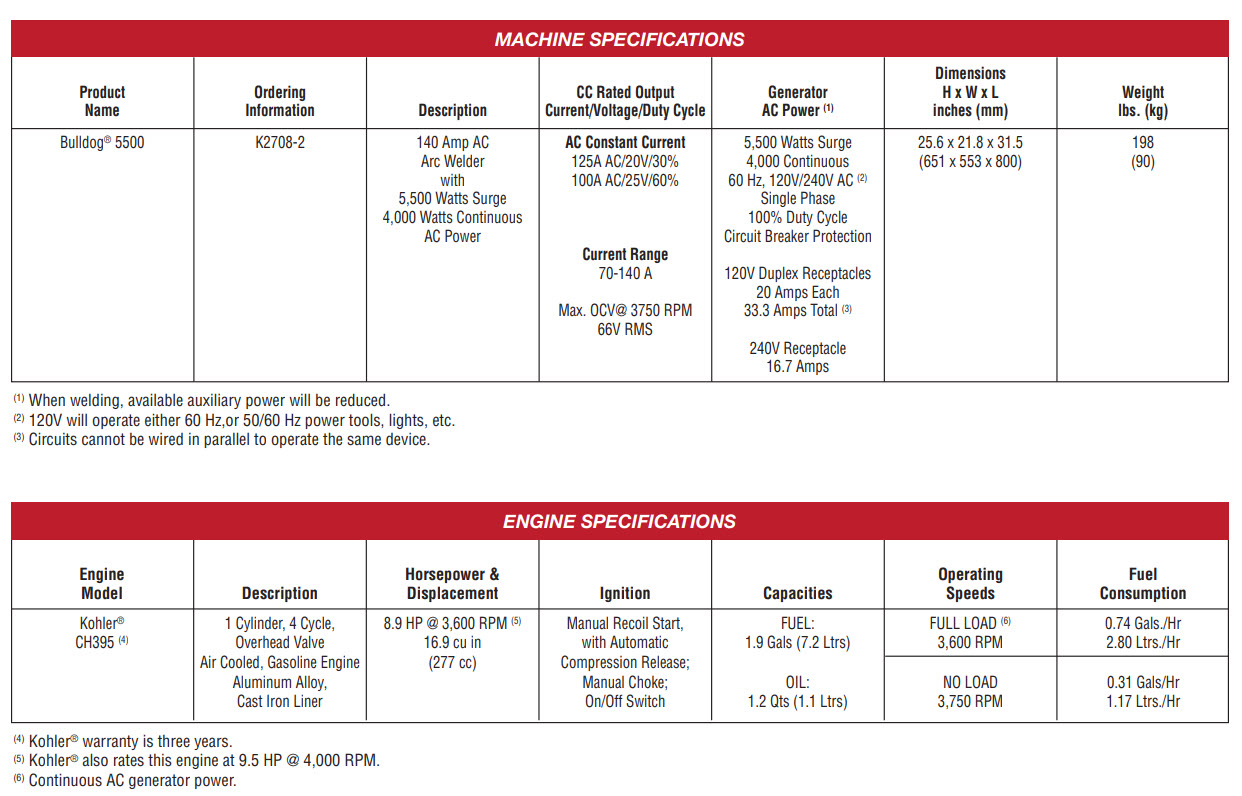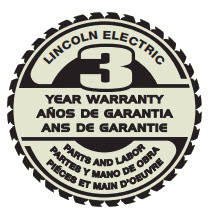 Comes complete with
Bulldog® 5500 with Kohler® CH395 gasoline engine with electric start