Mfg Industrial Price: $321.00
Unit price
per
FAST & FREE SHIPPING On All Orders Over $50

Lincoln® Caliber™ 26 Series Flex Valve TIG Torch K4842-26FV-2
Genuine Lincoln® Caliber™ 26 series Flex Valve TIG Torch is a 200 amp, air cooled TIG torch offers long-lasting performance and enhanced versatility for a premium TIG welding experience. Flexible neck adjusts to just about any angle, and gas valve provides on/off gas control while TIG welding with a machine that does not have a built-in gas solenoid. The Caliber 26 series torch is designed for heavy-duty TIG welding applications.
Applications
Field Maintenance and Repair
In-Plant Maintenance and Repair
Schools and Training
Ship and Boat
Fabrication
Features
Compact, Innovative Handle Design
Lightweight and ergonomic over molded handle improves grip to reduce finger fatigue.
Flexible Neck
Provides access to limited-access joints.
Built in on/off Gas Valve
° For TIG welding with machines that do not have a gas solenoid.
Ultra-Flexible Cable
Nylon braided exterior with soft silicone core provide elite flexibility and abrasion resistance.
Industry Standard Expendables
All Caliber TIG Torches are compatible with industry standard front end TIG Expendables.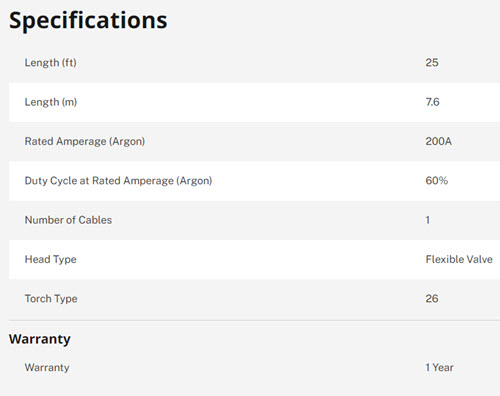 Comes complete with:
Caliber 26 Torch Body
Long back cap
Handle
1-Piece Power Cable, standard rubber, 25 ft. (7.6 m)