Cyberweld Price
$4,026.65
Cyberweld Price
$4,026.65
Mfg Industrial Price: $5,165.00
Unit price
per
MIG Gun:Magnum PRO Curve 300 amp
Drive Rolls:.045 VK
FAST & FREE SHIPPING On All Orders Over $50

Lincoln® LN-25X® Wire Feeder w/CrossLinc® & Magnum® PRO Curve 300 amp MIG Gun K4266-1
The Lincoln® LN-25X® Wire Feeder with TVT™ and Magnum® PRO Curve 300 MIG gun is a voltage sensing MIG wire feeder that has full remote voltage and amperage control without the use of a remote-control cable. Built-in CrossLinc® technology allows the LN-25X to communicate directly with a CrossLinc® equipped Lincoln welder through the welding leads, eliminating the need for costly remote-control cables. CrossLinc® remote control distance is limited only by the length of your welding cable leads. CrossLinc® allows your MIG or Flux-Cored welding operation to take place further away from the welding power source and reduces downtime and costs by giving the operator full remote voltage AND amperage control capabilities at the site of the weld without using expensive remote-control cables. The LN-25X can also be used as a traditional voltage sensing feeder on welders not equipped with CrossLinc®
The LN-25X also comes standard with TVT™. True Voltage Technology compensates for voltage drops common with long welding cable runs. TVT automatically detects welding voltage variations and adjust on-the-fly, to provide a smooth consistent arc, even if you are far away from the welder itself. (Please note: your welder MUST be equipped with CrossLinc® to take advantage of TVT™). The LN-25X wire feeder has up to a 450 amp welding capacity. It features Lincoln's MAXTRAC® wire drive system to ensure smooth wire feeding and excellent electrical contact with your welding gun. It comes complete with Magnum® PRO Curve 300 amp MIG gun with 15 foot leads and .045 drive rolls for cored-wire.

Processes
MIG (GMAW)
Flux Cored (FCAW)

Applications
Construction & Field Erection
General Fabrication
Heavy Equipment
Heavy Fabrication
Structural Fabrication

Features:
CrossLinc® with TVT™ technology - CrossLinc® uses the existing weld cable to communicate voltage control information between the feeder and Lincoln® CrossLinc® power source. This eliminates the need for a separate remote-control cable. TVT™ (True Voltage Technology) automatically compensates for voltage drops commonly associated with long welding cable runs.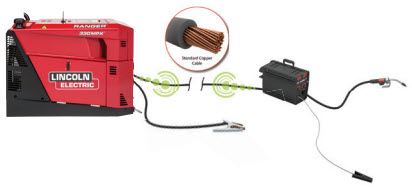 Includes Magnum® PRO Curve 300 MIG Gun.
Tachometer feedback ensures accurate wire feed speed
Trigger Interlock Switch Provides operator comfort for long welds
Maxtrac® Wire Drive System Heavy-duty cast aluminum wire drive system provides reliable feeding and durability


Replaceable and Flame Resistant Case Protects internal components, easy to replace
Potted PC Boards For moisture and corrosion protection
Split Wire Guide - Reduces birdnesting and allows for easy cleaning no-fuss wire guide alignment
Bright digital meters for easy viewing even in bright sunlight
Included Tweco style male connector on input power cable.
Weld Timers Pre-Flow, Post-Flow, and Burn Back
Adjustable Wire Run-In Speed for softer starting
Configurable for English or metric units
Arc Hours Meter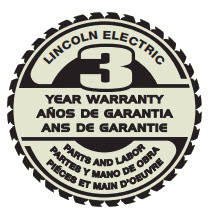 Comes Complete With
LN-25X® voltage sensing wire feeder with CrossLinc® and TVT™ technology
Magnum® PRO Curve 300 amp MIG gun, 100% duty cycle, air-cooled, 15 ft cable
Voltage sensing cable and clamp
.045 VK drive rolls