Cyberweld Price
$2,313.35
Cyberweld Price
$2,313.35
Mfg Industrial Price: $3,191.00
Unit price
per
FAST & FREE SHIPPING On All Orders Over $50

Lincoln® Magnum® PRO 250LX GT Spool Gun K3570-2
Genuine Lincoln® Magnum® PRO 250LX GT 25 foot spool gun for your Ranger® Air 260 MPX or Ranger® 330 MPX™ welder. The 250LX GT is rated for 250 amps at 60% duty cycle. The Magnum PRO 250LX GT plugs directly into your Ranger Air 260 MPX or Ranger 330 MPX without the use of control boxes or adapters. It features synergic controls at the gun, meaning you don't have to return to the power source to change voltage or wire feed speed. It uses Lincoln's premium Magnum long-life MIG consumables. The 250LX GT comes ready to feed 3/64 diameter aluminum MIG welding wire.
Processes
MIG (GMAW)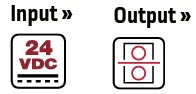 Features
Direct back end connection to:

Ranger® 330MPX™

Ranger® Air 260MPX™

Premium Magnum® PRO Expendables Copper Plus™ contact tips and long-life diffusers with Anti-Seize™ threads.
Connects Easily and Effectively - Plugs directly into the Ranger Air® 260MPX™ or Ranger® 330MPX™ engine driven welder without the need for an additional control box or adapter.
Internal Gas Valve The built-in gas valve allows gas flow to be controlled at the trigger, making the gun compatible with machines that do not have internal solenoids.
Synergic Wire Speed Adjustment Adjusts wire speed remotely at the gun with fine resolution, while synergically adjusting the voltage on your welder. This dials in desired welding parameters without the need to travel back to the power source.
Tool-less Drive Roll Tension Large thumbscrew makes fine adjustment of drive roll pressure effortless. Set screw allows for coarser adjustment if needed for steel.
Aluminum Wire Diameter Range - 0.30-3/64 in

Specs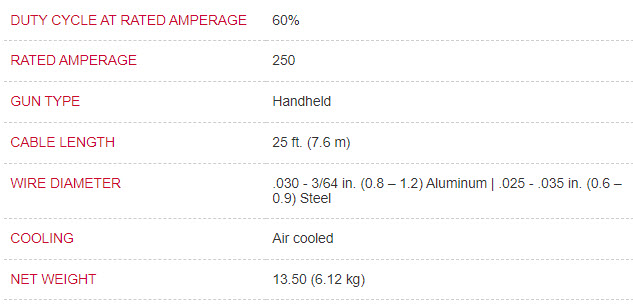 Comes complete with
KP2747-1A Diffuser, Thread-on, Aluminum 550A
KP2743-1-62RA Gas Nozzle Assembly, Aluminum, 5/8 in., Recessed
KP2745-364AT Tapered Contact Tip, Aluminum, 3/64 in.
KP2518-2 Drive Roll, Aluminum, .030/.035 3/64 in.
KP2879-5 Barrel Liner, 180
KP2773-1 Insulator, 550A