Cyberweld Price
$2,177.80
Cyberweld Price
$2,177.80
Mfg Industrial Price: $3,000.00
Unit price
per
FAST & FREE SHIPPING On All Orders Over $50

Lincoln® Magnum® PRO 250LX Spool Gun K3570-2
Genuine Lincoln® Magnum® PRO 250LX 25 foot spool gun for your POWER MIG® 256 or 260 welder. The 250LX is rated for 280 amps at 60% duty cycle. The Magnum PRO 250LX features fine, multi-turn amperage adjustment, meaning you don't have to return to the power source to change wire feed speed. It uses Lincoln's premium Magnum long-life MIG consumables. The 250LX comes ready to feed 3/64 diameter aluminum MIG welding wire.
Processes
MIG (GMAW)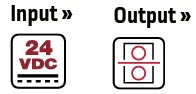 Features
Direct back end connection to:

POWER MIG® 256
POWER MIG® 260

Premium Magnum® PRO Expendables Copper Plus™ contact tips and long-life diffusers with Anti-Seize™ threads.
Connects Easily and Effectively Plugs directly into the POWER MIG® 256 and POWER MIG® 260 without the need for an additional adapter.
Multi-Turn Wire Speed Adjustment Adjust wire speed remotely at the gun with fine resolution so there is no need to travel back to the power source.
Tool-less Drive Roll Tension Large thumbscrew makes fine adjustment of drive roll pressure effortless. Set screw allows for coarser adjustment if needed for steel.
Aluminum Wire Diameter Range - 0.30-3/64 in

Specs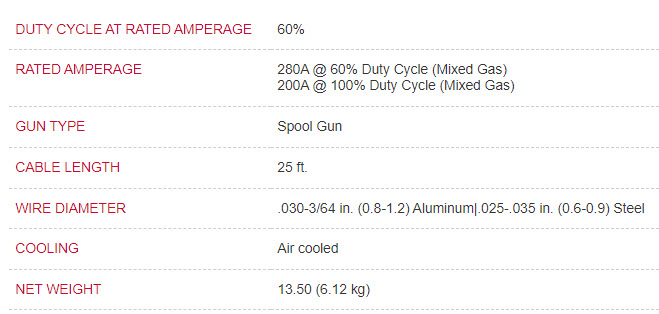 Comes complete with
KP2747-1A Diffuser, Thread-on, Aluminum 550A
KP2743-1-62RA Gas Nozzle Assembly, Aluminum, 5/8 in., Recessed
KP2745-364AT Tapered Contact Tip, Aluminum, 3/64 in.
KP2518-2 Drive Roll, Aluminum, .030/.035 3/64 in.
KP2879-5 Barrel Liner, 180
KP2773-1 Insulator, 550A