Mfg Industrial Price: $596.00
Unit price
per
FAST & FREE SHIPPING On All Orders Over $50

Lincoln® Magnum® PRO Curve™ HDE™ 250 MIG Gun (Miller) Ready-Pak® K4531-2-3-45
Genuine Lincoln® Magnum® PRO Curve™ HDE™ 250 is a 250 amp, 15 foot replacement MIG gun that connects directly to your Miller® MIG welder or wire feeder. It is an excellent upgrade from your Miller® MDX™ or Bernard® Q series MIG gun. The unique HDE (Heavy Duty and Ergonomic) design provides maximum comfort while delivering superior performance. The PRO Curve HDE 250 is rated for 250 amps at a full 100% duty cycle using CO2 shielding gas.
It's heavy duty construction features Lincoln's over-molded handle for a slim, balanced grip. The gooseneck rotates a full 360 degrees without the use of tools. The Magnum Pro Curve HDE 250 uses Lincoln's premium Magnum long-life MIG consumables. It comes ready to feed .045 diameter MIG welding wire and is capable of feeding .025 to .045 diameter welding wire.
Processes
MIG (GMAW)
Pulsed MIG (GMAW-P)
Flux-cored (FCAW)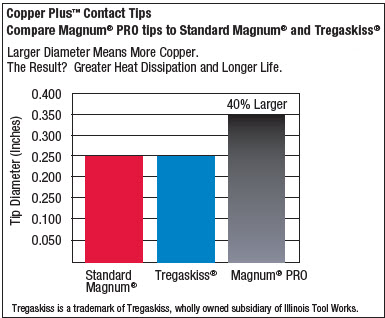 Features
Miller® direct power and trigger connection installed
Heavy Duty Construction
100% duty cycle
High quality copper parts ensure superior electrical contact and heat dissipation.
Four trigger leads are standard for fast field repair.
Patent-pending Anti-Seize™ tip and diffuser thread design reduces tip and diffuser seizing.
Lincoln Electric Copper Plus™ Contact Tips - Larger tip diameter and mass improve heat dissipation to increase tip life.
PRO Curve™ Handle Design - Lincoln® Curve™ HDE™ handle is lightweight and balanced, providing a comfortable grip to reduce fatigue.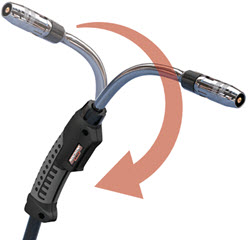 Tool-less rotating gun tube allows any number of hand positions to reduce fatigue or fit into tight spaces.
Simplified Expendable Parts Selection - 350A and 550A consumables are interchangeable across all gun models.
Ships with 350A parts.
Wire Diameter Range - 0.25-0.45 in (0.6 1.2 mm)