Lincoln Sprinter 180Si TIG One-Pak K5584-1
Code: K5584-1
Skip to product information
Cyberweld Price
$1,199.00
Cyberweld Price
$1,199.00
Mfg Industrial Price: $1,199.00
Unit price
per
Select Your Free Zone Promo Bonus
FAST & FREE SHIPPING On All Orders Over $50

Lincoln® Sprinter™ 180Si TIG One-Pak® K5584-1
The Lincoln® Sprinter™ 180Si TIG One-Pak® is a complete 180 amp DC TIG/Stick welding package that comes standard with pulsed TIG capabilities. The Sprinter operates on both 120 and 230 volt input power.  Weighing in at just 20 pounds, the 180Si is extremely lightweight, but it packs enough power to weld up to 5/32 in. diameter stick electrodes.
The Sprinter has an output range of 20 to 180 amps in stick welding mode and 10 to 200 amps while TIG welding.  It features both lift-arc and high frequency arc starts and comes standard with pulsed TIG capabilities. Stick welding features include two stick welding modes - SOFT and CRISP - to provide the best arc characteristics for whatever stick welding electrode you are using.
The Sprinter 180Si TIG One-Pak comes complete with Caliber 17 Series TIG torch, parts kit for 17 series TIG torch, foot pedal, adjustable gas regulator and hose, TIG torch adapter, stick electrode holder with cable, work cable with ground clamp and 230 volt to 120 volt adapter cord.
Processes
DC TIG (GTAW)

Pulsed DC TIG (GTAW-P)

Stick (GMAW)

Applications
Light Duty Fabrication
Maintenance
Farm
Auto Body
Aerospace
Light structural



Features
Two Stick Modes
Dedicated E6010 and E7108 weld modes allow for greater welding versatility and superior performance
High Frequency Start
Strike a precise arc every time while TIG welding
Touch Start TIG® Mode
Smooth TIG arc starts without the use of high frequency. Simply touch the tungsten to the work piece and lift.
Pulsed TIG Mode
Provides heat management and enhanced control when making thin, precise welds
Dual Input
Run the Sprinter™ 180Si welder off 120V or 230V, depending on the job

PLEASE NOTE: This is a DC TIG welder ONLY. It CANNOT TIG weld aluminum.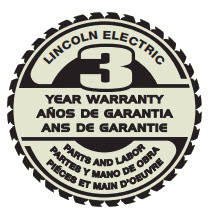 Comes complete with
Srpinter™ 180Si DC TIG/Stick welder
Caliber 17 Series TIG Torch (K5339-17F-1)
Parts Kit for 17 series Tig Torch (KP4760-HD)
Foot Pedal (K4361-1)
Adjustable Gas Regulator and Hose (3100211)
TIG Torch Adapter (K1622-7)
Stick electrode holder and cable, 10 ft. (3.0 m) with Twist Mate™ plug
Work clamp and cable, 10 ft. (3.0 m) with Twist Mate™ plug
230V/120V adapter cord