Mfg Industrial Price: $238.99
Unit price
per
FAST & FREE SHIPPING On All Orders Over $50

Magswitch® Extend-A-Maglift - 50mm 8100025
This new technology lets you turn magnetic power on and off with a half turn of a handle! When incorporated into the ergonomic design of the Magswitch® Magnetic Extenda-Lifter, you can pick up and move incredibly heavy, cumbersome objects with ease.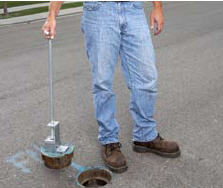 Features
Switchable Magnetic Hand Lifter
Rated to lift up to 70 lbs.
No Need to bend over and pickup Materials
Easy on/off control for precise positioning
Lightweight and compact
More effective than competitors on thinner materials
Holds on flat and round non-flexing material
Easy to use with freedom from electricity