Mfg Industrial Price: $178.99
Unit price
per
FAST & FREE SHIPPING On All Orders Over $50

Magswitch® Switchable Multi Angle 400 Mag-Vise 8100438
The Magswitch® switchable Multi Angle 400 Mag-Vise is a magnetic vise with up to 400 pounds holding power. The Multi Angle 400 Mag-Vise is so strong, it's the vise you don't have to bolt in place. With Magswitch® true-on, true-off technology, fit up and positioning work is a snap.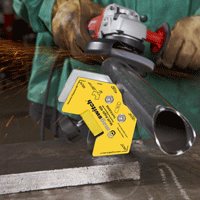 Features
Sets up in seconds. Ideal with 1/4" steel mounting base.
Offers several common angles: 45?/135?, 60?/120?, 75?/105? and 90?
Super strong hold on all sides
Holds 400 lbs. (182 kg) on thick steel.
Holds flat, round or odd shapes.
Doubles as a multi angle work holding tool.