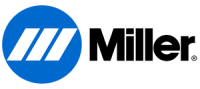 Miller® AlumaPower™ 350 MPa, XR-AlumaFeed™ Suitcase® Wire Feeder, XR-Aluma-Pro™ 25 ft. Air-Cooled Gun 951834
The Miller® AlumaFeed™ 350 with XR-Aluma Pro™ 25 ft. Air-Cooled Push-Pull Gun is a 425 amp MIG welding package that is specifically designed for pulsed MIG welding of aluminum. The XR-AlumaFeed™ Suitcase® wire feeder and AlumaPower™ 350 MPa produce aluminum MIG welds that rival the quality and appearance of TIG welds. Built-in MIG and pulsed MIG welding programs allow for easy set up of weld parameters for a variety of welding wires. (Built-in Pulsed MIG programs are available for aluminum MIG wire ONLY)

Processes
MIG (GMAW)
Pulsed MIG (GMAW-P)
Synergic Pulsed MIG

Applications
Industrial Applications
Boat, Ship and Yacht Building
Recreational Vehicles
Trucks and Trailer
Sign Manufacturers
Emergency Vehicles

Features


Immediate Productivity with Built-in Pulsed MIG Programs. The AlumaFeed's built-in Pulsed MIG programs automatically set the optimal parameters for the most commonly used aluminum alloys, such as 4000 and 5000 Series, with wire diameters up to 1/16 inch for high-deposition applications. The AlumaFeed™ System provides everything needed for increased productivity.
Ultra portable and versatile. The slim ergonomic design of the XR-Aluma-Pro torch allows access into the tightest of quarters. Coupled with the XR-AlumaFeed feeder and the AlumaPower™ 350 MPa synergic power supply it has the features for all of your aluminum fabrication needs.
True push-pull wire feed system ensures smooth, consistent feeding and improved arc performance, while reducing the problems normally associated with feeding aluminum.
Profile Pulse Achieve stacked dime weld bead appearance without back-stepping.



Synergic welding mode offers the simplicity of single knob control. The machine will select the correct voltage and amperage based on the wire feed speed (WFS) set by the operator.
Begin and End Welds with Ease and Confidence. Hot Start reduces incomplete fusion at the beginning of a weld, a common issue with aluminum welding. Crater gradually decreases weld current at the end of a weld to reduce crater defects. Adjustable pre- and post-flow rates ensure that the puddle always has adequate gas coverage.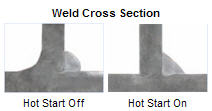 Superior Puddle and Bead Control with SharpArc. SharpArc controls the arc in Pulsed MIG mode and gives total control over the arc cone shape, puddle fluidity and bead profile. A simple turn of the dial adjusts SharpArc settings, from a wider arc cone with increased fluidity and flatter bead profile to a stiffer puddle with narrower bead.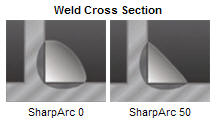 Parameter and system lock provides three levels of protection to prevent accidental modification of welding parameters or manipulation of setup menu items.

AlumaPower™ 350 MPa Power Supply Features


Fan-On-Demand cooling system operates only when needed, reducing noise, energy use and the amount of contaminants pulled through machine.
Large, dual digital meters are easy to view and are presettable to ease setting weld output.
Inverter arc control technology provides greater puddle control for outstanding MIG weld performance.


Auto-Line™ Power Management Technology allows for any input voltage hook-up (208-575 V) with no manual linking required, providing convenience in any job setting. Ideal solution for dirty or unreliable input power.
Line voltage compensation keeps welding output constant even if input power varies by +/-10%. XMT 350 models further expand line voltage compensation on 460 VAC to an amazing +37%, -59%.
Lightweight, aerospace-grade aluminum case offers protection with the benefit of reduced weight.
Ultra-tough, polycarbonate-blended cover for control panel protects front controls from damage.
Easy setup for MIG and Pulsed MIG applications.

XR-AlumaFeed™ Suitcase® Wire Feeder Features


Dual schedule allows a quick selection of procedure A or B while welding. The selection of a procedure memory works in coordination with a dual procedure switch, or with quick release/pull on the gun.
4 Step trigger operation provides trigger interlock capability and the ability to control the amount of time spent in the arc start and arc crater steps.
Standard integrated flowmeter helps to regulate and maintain proper gas flow rate. Helpful when feeder is located long distances from gas supply. Helps ensure weld quality.
Improved gun connection uses a bushing that captures the power end of gun to ensure correct alignment to drive rolls and provides exceptional ruggedness and durability.
Improved drive assembly with numeric scale for different wire sizes prevents wire slippage and deformation. Helps improve wire feeding by making sure the proper drive roll tension is used. Comes factory-installed with 3/64 in drive rolls.
Gun calibration allows control box to sync with the welding gun for precise wire feed control that is critical for reducing weld defects and providing flawless synergic operation.
Setup guide on inner panel of feeder has quick tips to get your system up and running quickly. Also provides a good reference that won't get misplaced like an owner's manual.
Rugged Suitcase® enclosure holds up in the harshest environments and protects wire from dirt and moisture. It is also highly portable, impact resistant and flame-retardant.
Bright digital displays are easy to read and display voltage or arc length and wire feed speed or amperage. Also have indicators for start and crater, setup, dual schedule and advanced trigger operations. Two-knob, three- button panel layout makes it simple to change parameters and reduces training time.
XR-Aluma-Pro Plus Push-Pull Gun 25 ft length for extended reach with trouble-free, reliable feeding.

Specs




XR-Aluma-Pro

Comes Complete With
XR-AlumaFeed™ Suitcase® push-pull wire feeder
AlumaPower™ 350 MPa welder
XR-Aluma-Pro push-pull 25ft air-cooled MIG gun
.035 and 3/64 in (0.9 and 1.2 mm) contact tips and liners for gun
.035 and 3/64 in (0.9 and 1.2 mm) drive rolls for wire feeder
Eight FREE 16 lb. spools of Hobart® 4943 .035 diameter aluminum MIG welding wire.
*Note:
All AlumaFeed™ systems come set up out of the box to run 3/64 in (1.2 mm) 5356 wire.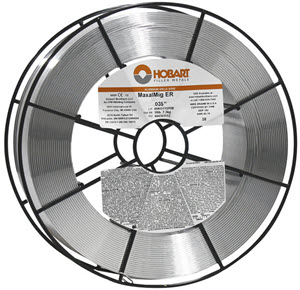 Get eight FREE 16 lb. spools of Hobart® MaxalMig® 4943 .035 diameter aluminum MIG welding wire with purchase of an AlumaFeed™ 350 MIG welder. While supplies last. (No substitutions allowed.)
Hobart® MaxalMig® ER4943 .035 Aluminum MIG Welding Wire - 16# Wire Basket Spool 494303512
16 lb. Wire Basket Spool -
Genuine Hobart® MaxalMig® ER4943 .035 diameter aluminum MIG welding wire is formulated to be used in the same welding applications as ER4043, but with a 25% higher ultimate tensile strength (UTS) and 50% higher yield strength in the "as welded" state. ER4943 has moderate to high strength (35 ksi typical), with a low melting temperature and excellent fluidity. It is well-suited for welding 6XXX series aluminum. It is classified as AWS A5.10 ER4943 and is an all-position solid MIG wire with excellent corrosion resistance and low shrinkage rate.
The Hobart MaxlMig® 12 inch wire basket spool is made from heavy duty steel and can be put into your shop's scrap metal recycle bin when your MIG wire is depleted. The wire basket protects your welding wire far better than plastics spools and doesn't have to end up in a landfill when your job is done.
Applications
Welding 6xxx alloys
Automotive/motorcycle frames
Sports products - scooters/bicycles
General repair and maintenance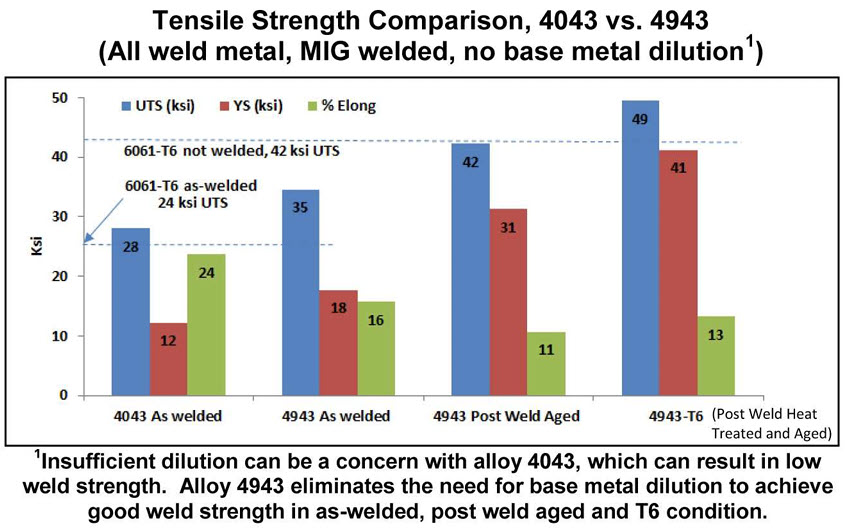 Features
Moderate/High strength (35 ksi typical)
Low melting temperature/high fluidity
Low welding smut and discoloration
Low ductility, formability, and lower toughness
Moderate electrical conductivity and thermal conductivity
Excellent corrosion resistance
Low shrinkage rate/reduced distortion
Low hot cracking sensitivity in most applications



Shielding Gas:


Argon 100%
Argon/Helium mixes for 1 inch + thick plate