Cyberweld Price
$7,059.00
Cyberweld Price
$7,059.00
Mfg Industrial Price: $8,155.00
Unit price
per
Select Your Free Zone Promo Bonus
FAST & FREE SHIPPING On All Orders Over $50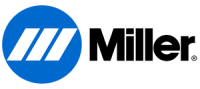 Miller® AlumaPower™ 350 MPa MIG Welder 907420
The Miller® AlumaPower™ 350 MPa is a 425 amp MIG welder that is specifically designed for pulsed MIG welding of aluminum. When paired with the OPTIONAL XR-AlumaFeed™ wire feeder, the 350 MPa produces aluminum MIG welds that rival the quality and appearance of TIG welds. Built-in MIG and pulsed MIG welding programs allow for easy set up of weld parameters for a variety of welding wires. (Built-in Pulsed MIG programs are available for aluminum MIG wire ONLY)

Processes
MIG (GMAW)
Pulsed MIG (GMAW-P)
Synergic Pulsed MIG

Applications
Industrial Applications
Boat, Ship and Yacht Building
Recreational Vehicles
Trucks and Trailer
Sign Manufacturers
Emergency Vehicles

Features


Profile Pulse™ provides TIG appearance with MIG simplicity and productivity. Achieve 'stacked dimes without gun manipulation. Profile Pulse frequency can be changed to increase or decrease the spacing between the ripple pattern to achieve the desired weld appearance.
Fan-On-Demand™ cooling system operates only when needed, reducing noise, energy use and the amount of contaminants pulled through machine.
Large, dual digital meters are easy to view and are presettable to ease setting weld output.
Inverter arc control technology provides greater puddle control for outstanding MIG and Pulsed MIG weld performance.


Auto-Line™ Power Management Technology allows for any input voltage hook-up (208-575 V) with no manual linking required, providing convenience in any job setting. Ideal solution for dirty or unreliable input power.
Line voltage compensation keeps welding output constant even if input power varies by +/-10%.
Lightweight, aerospace-grade aluminum case offers protection and the benefit of reduced weight.
Ultra-tough, polycarbonate-blended cover for control panel protects front controls from damage.
Built-in MIG and Pulsed MIG programs - Automatically set the optimal parameters for a wide variety of wires making it easy to setup and use.
Superior Puddle and Bead Control with SharpArc®. SharpArc controls the arc in Pulsed MIG mode and gives total control over the arc cone shape, puddle fluidity and bead profile. A simple turn of the dial adjusts SharpArc settings, from a wider arc cone with increased fluidity and flatter bead profile to a stiffer puddle with narrower bead.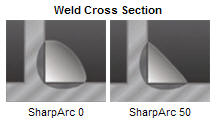 Specs


Comes complete with:
Four FREE 16 lb. spools of Hobart® 4943 .035 diameter aluminum MIG welding wire.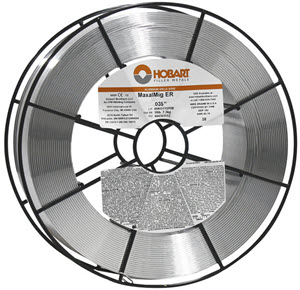 Get four FREE 16 lb. spools of Hobart® MaxalMig® 4943 .035 diameter aluminum MIG welding wire with purchase of an AlumaPower™ 350 MPa welder. While supplies last. (No substitutions allowed.)
Hobart® MaxalMig® ER4943 .035 Aluminum MIG Welding Wire - 16# Wire Basket Spool 494303512
16 lb. Wire Basket Spool -
Genuine Hobart® MaxalMig® ER4943 .035 diameter aluminum MIG welding wire is formulated to be used in the same welding applications as ER4043, but with a 25% higher ultimate tensile strength (UTS) and 50% higher yield strength in the "as welded" state. ER4943 has moderate to high strength (35 ksi typical), with a low melting temperature and excellent fluidity. It is well-suited for welding 6XXX series aluminum. It is classified as AWS A5.10 ER4943 and is an all-position solid MIG wire with excellent corrosion resistance and low shrinkage rate.
The Hobart MaxlMig® 12 inch wire basket spool is made from heavy duty steel and can be put into your shop's scrap metal recycle bin when your MIG wire is depleted. The wire basket protects your welding wire far better than plastics spools and doesn't have to end up in a landfill when your job is done.
Applications
Welding 6xxx alloys
Automotive/motorcycle frames
Sports products - scooters/bicycles
General repair and maintenance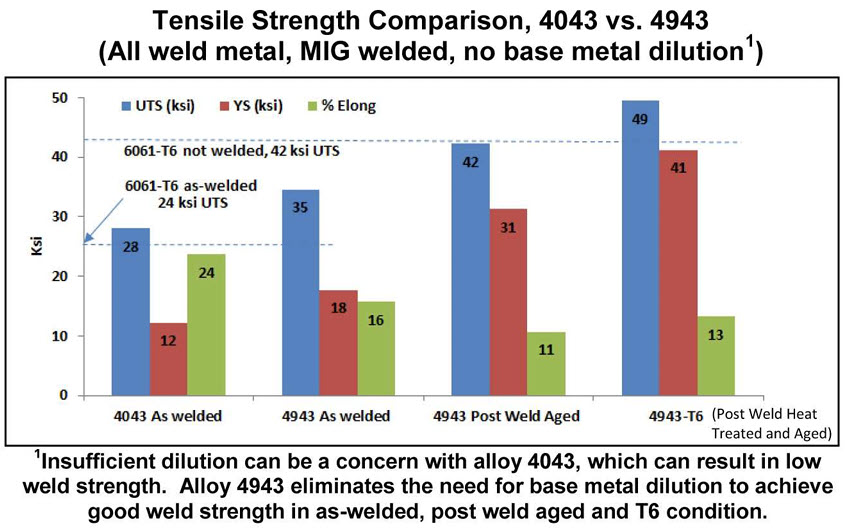 Features
Moderate/High strength (35 ksi typical)
Low melting temperature/high fluidity
Low welding smut and discoloration
Low ductility, formability, and lower toughness
Moderate electrical conductivity and thermal conductivity
Excellent corrosion resistance
Low shrinkage rate/reduced distortion
Low hot cracking sensitivity in most applications



Shielding Gas:


Argon 100%
Argon/Helium mixes for 1 inch + thick plate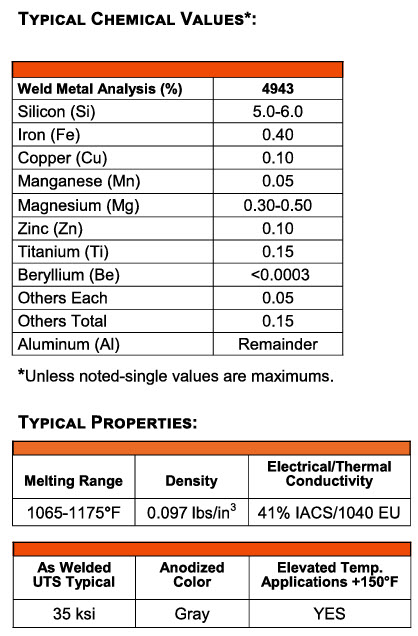 Regular price
$8,138.00
Lowest Internet Price
Mfg Industrial Price: $9,399.00
$8,138.00
You Save $1,261.00
Unit price
per
Free
Get a FREE Miller® T94i™ ClearLight™ auto-darkening welding helmet with purchase.
Expires: While supplies last.
See more
Miller® D-74 MPa Plus single wire feeder is optimized for use with Miller Invision™ MPa and XMT™ MPa welders and can perform two different weld procedures without costly change outs.