Miller ArcReach Stick/TIG Remote 301325
Code: 301325
Skip to product information
Cyberweld Price
$1,613.75
Cyberweld Price
$1,613.75
Mfg Industrial Price: $2,090.00
Unit price
per
FAST & FREE SHIPPING On All Orders Over $50

Miller® ArcReach™ Stick/TIG Remote 301325
The Miller® ArcReach™ Stick/TIG remote pairs with your Miller ArcReach™ compatible welder to provide full remote amperage control for your stick or TIG welding application without the use of a remote control cable. The secret to this technology is built-in circuitry in both the ArcReach Stick/TIG remote and Miller ArcReach welder that passes remote control signals through the welding leads, eliminating the need for costly remote control cables. ArcReach remote control distance is limited only by the length of your welding cable leads. ArcReach allows your stick or TIG welding operation to take place further away from the welding power source and reduces downtime and costs by giving the operator full remote amperage control capabilities at the site of the weld without using expensive remote control cables. The ArcReach Stick/TIG remote MUST be paired with a Miller ArcReach welder.
Processes
Stick (SMAW)
TIG (GTAW)
Air carbon arc gouging (CAC-A)

Applications
Construction
Shipbuilding
Fabrication
Maintenance and repair

Features
Remote override of power source. When the ArcReach Remote is connected, it has full control and the power source controls are disabled preventing accidental changes by personnel other than the welding operator.
More arc-on time and reduced exposure to workplace hazards for operators because less time is spent going back to the welding power supply to set process and weld settings.
Easy to adjust amperage (heat) control and arc control to fine tune arc characteristics.
Remove guesswork when it comes to adhering to weld procedures. Operators can precisely set amperage, the best weld setting (EXX18 or EXX10), view polarity and preset amperage.
Impact-resistant case provides durability, and protects components from moisture, dust and other contaminants.
Maintenance friendly. Toolless connection of volt sense lead and easily replaceable weld cable.
Auto-Process Select.™ System automatically changes to Stick mode if electrode positive polarity is detected or TIG mode if electrode negative polarity is detected, reducing the need to access the power supply.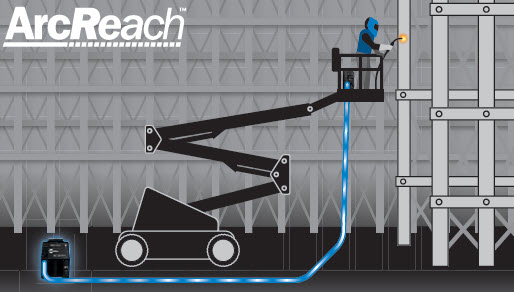 Total 5 star reviews: 0
Total 4 star reviews: 0
Total 3 star reviews: 0
Total 2 star reviews: 1
Total 1 star reviews: 0
I do not recommend this product

Arc reach

Well made and very useful, in specific applications. But why 2 stars? It will not adjust amps while welding with my 2018 pipepro 400. Any downhill welder will tell you how advantageous it is and at times nescearry for amperage adjustment to be available WHILE WELDING! Seeing that a pipepro is suited for downhill welding and is advertied as being arc reach compatible, it is of no use to me while welding. Poor explanation and limited description from miller about this.

After talking to miller technicians the ability to adjust while welding is only available on specific power sources. I was able to return it but would not of purchased if this was Cleary identified as being of limited use. Had it performed as needed I would of certainly kept the unit and easily given 5 stars.
Reviews Loaded
Reviews Added