Cyberweld Price
$4,187.00
Cyberweld Price
$4,187.00
Mfg Industrial Price: $4,831.00
Unit price
per
Select Your Free Zone Promo Bonus
FAST & FREE SHIPPING On All Orders Over $50

Miller® ArcReach® SuitCase® 12 Wire Feeder With Bernard S-Gun™ 300 Amp MIG Gun 951730
The Miller® SuitCase® ArcReach® 12 Wire Feeder with Bernard® S-Gun™ is a voltage sensing MIG wire feeder that has full remote voltage and amperage control without the use of a remote control cable. The secret to this technology is built-in circuitry in both the 12VS ArcReach feeder and Miller ArcReach welder that passes remote control signals through the welding leads, eliminating the need for costly remote control cables. ArcReach remote control distance is limited only by the length of your welding cable leads. ArcReach allows your MIG or Flux-Cored welding operation to take place further away from the welding power source and reduces downtime and costs by giving the operator full remote voltage AND amperage control capabilities at the site of the weld without using expensive remote control cables. The Suitcase 12 ArcReach MUST be paired with a Miller ArcReach welder to get the full benefits of this feature.
(NOTE: The ArcReach 12VS wire feeder CAN be used with non-ArcReach welders. However, you WILL NOT have remote voltage control at the feeder)
The Suitcase 12 ArcReach wire feeder has up to a 425 amp welding capacity. It is extremely rugged and can be taken just about anywhere. It features an industrial wire feed speed control, wire speed dual schedule and improved wire delivery system. Consistent wire feed speeds and tough polypropylene shell make the SuitCase 12 the rugged, reliable choice. It comes complete with Bernard® S-Gun™ 250 amp MIG gun with "slim" handle design and 15 foot leads.

Processes
MIG (GMAW)
Flux Cored (FCAW)

Applications
Industrial Applications
Shipbuilding
Construction
Heavy Manufacturing
Rental

Features:


Full Remote voltage and amperage control of the welding power source without a cord - ArcReach™ technology uses the existing weld cable to communicate welding control information between the feeder and power source. This technology eliminates the need for control cords, and their associated problems and costs.
Includes Bernard® S-Gun™ 250 amp MIG Gun with "slim" handle that is designed specifically for the shipbuilding and construction industries.
Portable wire feeding at its best. The SuitCase 12 provides wire feed speed that is accurate and consistent from the start of the weld to the finish, and from one weld to the next. Consistent wire feed speed is very important with large-diameter cored wire, because small changes in wire feed speed make large changes in deposition rates.
Wire delivery system bends wire over a large radius and applies just the right amount of force to ensure consistent feeding.
Wire speed dual schedule reduces wire speed to 87.5 percent of standard speed. Requires a dual schedule gun or dual schedule switch (sold separately).
Electronic wire feed speed control with integrated tachometer ensures wire feed speed accuracy that rivals the best benchtop feeders.
Polypropylene case with built-in slide rails and the ability to open the door to change wire with feeder in vertical position.
Trigger hold, wire jog, and gas purge are all located on front panel.
Digital meters with SunVision™ technology display voltage and wire speed, and also amperage if desired. Meters can be seen clearly even in direct sunlight.
Wider voltage range for small and large wires with no contactor chatter or arc outages.
Double-filtered gas valve helps keep dirt from clogging and affecting gas flow.
Excellent starts and improved superior arc performance for all types and sizes of wires whether using CV or CC power supply.
Potted and trayed main printed circuit board for the harshest environments adds exceptional reliability. Board has full-trigger isolation so a shorted gun trigger will not affect feeder operation.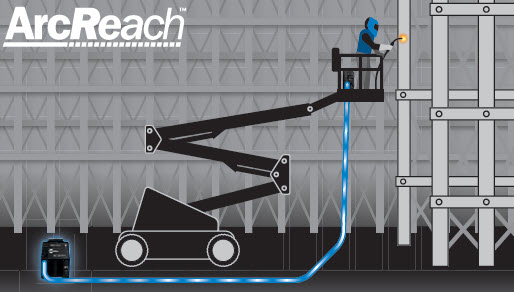 Comes Complete With
ArcReach® SuitCase® 12 voltage sensing wire feeder
Bernard® S-Gun™ (small curved handle) 250 amp MIG gun, 100% duty cycle, air-cooled, 15 ft cable
Voltage sensing cable and clamp
.045 - 1/16 reversible dual VK drive rolls
3 - Bernard® Centerfire™ .045 contact tips
2 - Bernard® Centerfire™ .052 contact tips
FREE Miller® Digital Performance™ ClearLight™ auto-darkening welding hood.
FREE Hobart® Fabshield® 21B 10 lb. spool .035 E71T-11 flux-cored welding wire.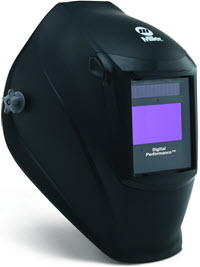 Get a FREE Miller® Digital Performance™ ClearLight™ Black auto-darkening welding helmet PLUS a FREE 10 lb. spool of Hobart® Fabshield® 21B .035 E71T-11 flux-cored welding wire with the purchase of this ArcReach™ Suitcase® wire feeder. While supplies last. (No substitutions allowed.)
Digital Performance™ Features
ClearLight™ lens technology optimizes contrast and clarity in welding and light states - reducing eye strain and operator fatigue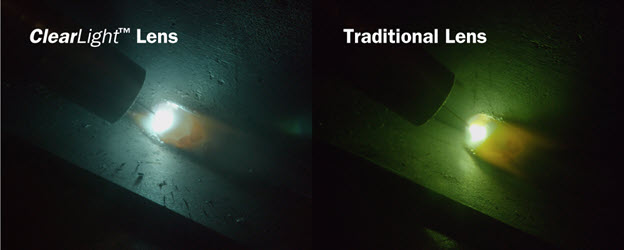 Digital Controls With Three Operating Modes -
Weld Mode™ Shades #8 - 13
Cut Mode™ Shades #5 - 8
Grind Mode - Light State #3
Improved headgear features additional adjust-ability settings for better fit & comfort
Quick-release front cover lens assembly



Comes complete with
5 outside cover lenses
2 inside cover lenses
Helmet bag
Three year warranty

Fabshield&reg 21B Features
E71T11 Self-Shielded Wire - no shielding gas needed
.035 wire diameter
Excellent for general purpose carbon steel welding applications.
Works well on galvanized steel.
All-position, single or multiple pass