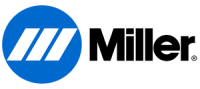 Miller® Deltaweld® 500 MIGRunner with Intellx™ Feeder 951814001
The Miller® Deltaweld® 500 MIGRunner with Inellex™ Feeder is a complete 650 amp MIG welding system that operates on 3 phase input power. The advanced technology of both the Deltaweld 500 welder and the Intellx feeder means that professional, superior quality welds are consistently produced regardless of the skill level of the operator. With a more forgiving arc, the Deltaweld 500 increases productivity by reducing training time.
The Intellx wire feeder comes complete with digital meters plus standard features like E-Z Set, Arc control, for a smoother, more stable arc, wire jog and purge, and wire feed speed feedback.
Complete MIGRunner package includes Deltaweld 500 welder, Intellx wire feeder, feeder mount with swivel base, Bernard™ BTB 400 amp MIG gun, running gear with dual cylinder rack, flowmeter/regulator and all interconnecting cables and gas hose.

Processes
MIG (GMAW)
Flux Cored (FCAW)
Carbon Arc Gouging (CAC-A)

Applications
Heavy Industrial Manufacturing
General manufacturing
General fabrication
Structural steel fabrication
Transportation
Sheet metal fabrication
Light-gauge tube and sheet



Features
Intellx™ wire feeder - arc control feature means welders can produce better welds with minimal parameter adjustment.
Easy to use - EZ-Set simplifies parameter setup based on material thickness, removing complexity.
Quality-engineered cable management - protects your connections to keep you productive.
Wind Tunnel Technology™ - Internal air flow that protects electrical components and PC boards from dirt, dust, debris - greatly improving reliability.
Fan-On-Demand™ - operates only when needed reducing noise, power consumption, and the amount of airborne contaminants pulled through the machine.
ArcConnect™ - is a next generation communication that utilizes high speed signals to improve weld performance and allow point-of-use controls to be located at the feeder.
Gouge Mode- Deltaweld 500 has a dedicated constant current carbon arc gouge mode specifically designed to gouge up to 3/8" carbons.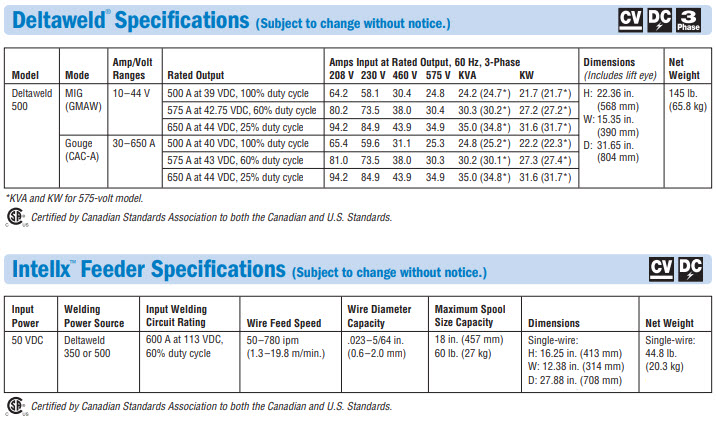 Comes complete with
Deltaweld® 500 MIG welder with ArcConnect™
Intellx™ Wire Feeder
Bernard™ BTB 400 amp MIG gun
.035/.045 in. V-groove drive rolls
Deltaweld® 500 running gear/cylinder rack
Feeder swivel kit
Cart accessory kit
ArcConnect™ control/motor cable 9ft.
FREE Optrel® Panoramaxx CLT Silver auto-darkening welding helmet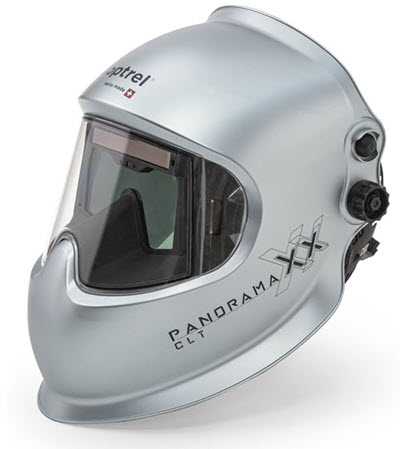 Get a FREE Optrel® Panormaxx CLT Silver auto-darkening welding helmet with purchase of a Miller® Deltaweld® 500 MIG welder. While supplies last. (No substitutions allowed.)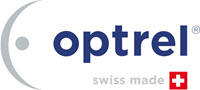 The Optrel® Panoramaxx CLT Silver auto-darkening welding hood features Crystal shade 2.0 light state that is unmatched in the world for color and clarity and provides up to 6X the viewing area of a standard 2" X 4" auto-dark welding lens. The key to this revolutionary technology is the size and shape of the ADF, coupled with the unique Panoramaxx shell design, which allows the welding lens to be positioned closer to your face. The Panoramaxx also has advanced features like SHADETRONIC®, which automatically adjusts the shade level based on the brightness of the arc and True Color, which allows for realistic color perception in light or dark states.

All Panoramaxx welding helmets now come with the revolutionary IsoFit® headgear. It is the only welding headgear in the world that wraps the entire crown of the head with multiple touch points to provide a custom fit like never before. Independent "three dimensional" size, width and height adjustments ensure all day comfort with a secure hold.

The Panoramaxx CLT has a built-in rechargeable battery that does not need replacing. The battery is charged through arc light or when manual charging is necessary, a micro USB charging port. It comes complete with micro USB cable, helmet bag and Oprel's 2+1 warranty.



Features
PANORAMIC FIELD OF VISION - The Panoramaxx CLT offers a 6 times larger field of vision than standard welding helmets and is still a lightweight at only 21.5 ounces.
CRYSTAL LENS TECHNOLOGY 2.0 - Shade 2.0 light state provides the brightest view of your working environment available anywhere. The natural color and clear optics supplied by CLT increases both safety and efficiency in the workplace.
SHADETRONIC® - Detection of the arc brightness and fully automated shade level adjustment from 4 to 12. Adjusts automatically to the changing light conditions of the current welding method. A sophisticated SHADETRONIC® sensor continuously measures the light intensity of the welding arc and regulates the glare protection progressively and fully automatically.
FADETRONIC - Patented Optrel FadeTronic technology gradually lightens the auto darkening filter after the welding arc is extinguished. The unpleasant afterglow is faded out especially for high amperage applications. Eye fatigue is significantly reduced, enhancing worker safety. FADETRONIC can be adjusted for a custom user experience.
TRUE COLOR - A specially developed UV/IR filter allows the realistic color perception typical of Optrel®, bringing color to the welder's world. TRUE COLOR passes more colors of the spectrum through compared to standard "green" spectrum welding lenses.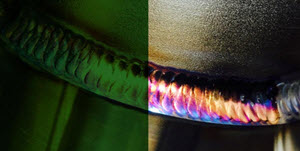 Optrel Re-Charge - With its rechargeable power-pack, changing batteries is no longer necessary. Thanks to the latest solar technology, a rechargeable lithium-polymer battery is recharged either by the welding light or by the ambient light. In addition, the battery can also be charged directly with any USB charger via a micro-USB interface.
5-Point Detection - intelligent sensor control with five sensors. Sophisticated software and clever positioning of four sensors at the corners and one sensor in the upper center ensures the lens is switched on and off perfectly, even in the most difficult lighting conditions or in awkward positions.
IsoFit® headgear sets a new standard of wearing comfort. It is the only product worldwide that can be adjusted in width, length and height i.e. three-dimensionally to any head shape, so that the helmet really fits "like a glove."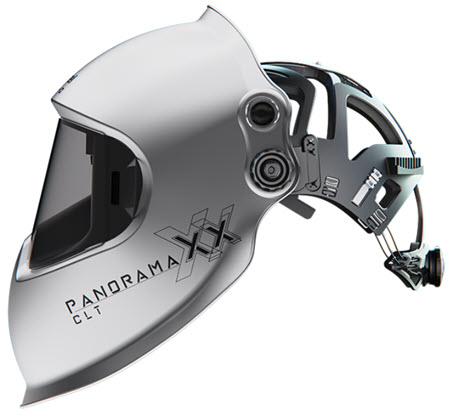 FadeTronic® - gradually lightens lens when switching from dark (welding) to light state to ease eye fatigue.
Sensitivity Adjustment - allows operator to change lens switching sensitivity for varying ambient light conditions or outdoor welding in sunlight.
Grinding Mode - external grind control allows user to switch between welding mode and shade 2 grinding mode quickly and easily.
Delay Function
Out-Of Position Welding is possible with Optrel®'s unique shell design, which has no seams or edges where weld spatter can collect.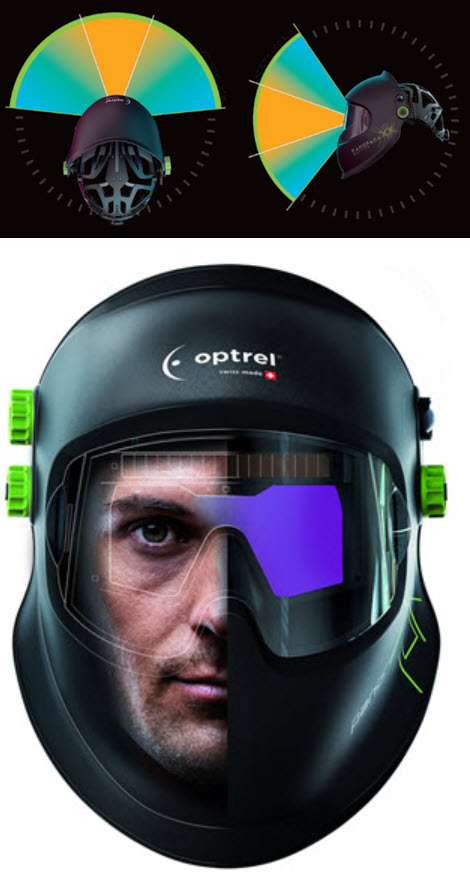 Specs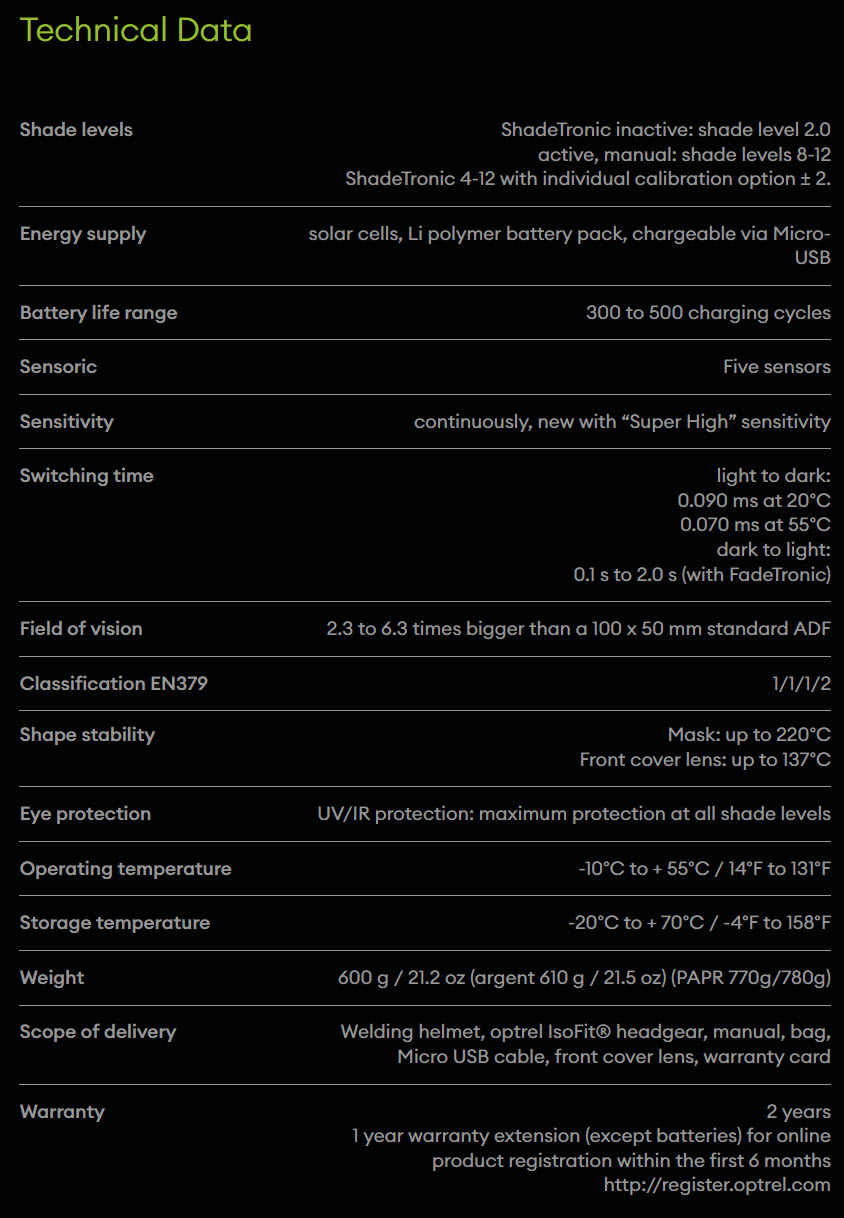 Comes complete with
Micro USB charging cable
Helmet bag
1 extra outside cover plate
2+1 warranty