Mfg Industrial Price: $343.33
Unit price
per
Gas:Helium, Argon, Argon/CO2, CO2 (Carbon Dioxide)
FAST & FREE SHIPPING On All Orders Over $50

Miller® Helium Flow Meter Regulator 22-30-580
The Miller® Helium Flow Meter Regulator is ideal for most MIG and TIG welding applications where accurate delivery of helium, argon, CO2 or argon/CO2 shielding gas is needed. The flow tube features Miller's exclusive self-centering ball guide, which delivers more precise readings of shielding gas flow than competitive brands. The flow tube also has a high-visibility green-scale background and is protected by a robust aluminum housing.
The 22-30-580 flow meter regulator comes with a GGA-580 (inert gas) inlet and has a preset outlet delivery pressure of 30 PSIG. The flow range for this regulator is 10-160 SCFH for helium and 10-55 SCFH for argon, CO2 or argon/CO2 shielding gases. It is backed by Miller's True Blue® Three Year Warranty.

Features
Graduated flow tube for measuring helium, argon, CO2 and argon/CO2 shielding gases.
Rugged aluminum housing protects flow tubes from accidental damage while offering an unobstructed view of flow reading.
Extra-long flow tube. Expanded scales are easy to read and accurate within five percent of full scale reading.
High-visibility-green scale background eases reading flowmeter from a distance and in low-light conditions.
Shatter-resistant multi-scale flow tube. Tubes are made of shatter-resistant polycarbonate resin and feature separate scales for argon, C02 and helium depending on the model.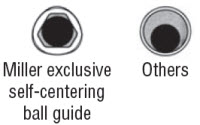 Unique self-centering ball guide - exclusive ball-centering flow tube provides accurate flow readings even if the tube is tipped. This ensures good weld quality and gas savings. Non self-centering flow tube ball tends to float off center. Actual gas flow can be up to 2-1/2 times greater than is indicated.
Two-inch cylinder pressure gauge is easy to read and has a shatter-resistant lens.
Auto-reset pressure-relief valve protects regulator from damage due to inadvertent high-pressure surge. Relief valve will release excessive pressure and automatically reset.
Sure Seat filtered high-pressure seat assembly protects seat from debris for reliable operation and long service life.
Inlet stem filter provides additional filter protection against seat contamination and regulator creep.

Specifications




Total 5 star reviews: 2
Total 4 star reviews: 1
Total 3 star reviews: 0
Total 2 star reviews: 0
Total 1 star reviews: 0
Miller flowmeter

I am a novice welder, welding 304 stainless. With all the practice welds I have done, I feel this flowmeter made it easier for me to dial in my parameters.

Argon, CO2, Helium regulator and flow meter

Very good quality. Easy to read.

As Advertised

Worked fine, did not purchase the pre-made hose so had to purchase the proper outlet fitting separately.
Reviews Loaded
Reviews Added