Cyberweld Price
$1,309.95
Cyberweld Price
$1,309.95
Mfg Industrial Price: $1,476.00
Unit price
per
FAST & FREE SHIPPING On All Orders Over $50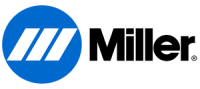 Miller® Wireless Interface Control (WIC) 288137
Genuine Miller® replacement Wireless Interface Control (WIC) is a handheld unit that controls all weld parameters, stores custom weld settings, displays real time engine status and service intervals, and acts as a remote engine start/stop. Wireless interface control saves fuel, reduces jobsite noise, and enhances worker safety and productivity by reducing trips back and forth to the welder.
The Wireless Interface Control connects to your Trailblazer® WIC or Big Blue® WIC welder via Bluetooth™ and can be used as a spare or replacement remote control unit.
For use ONLY with WIC equipped Miller Trailblazer® and Big Blue® welders/generators. This control CANNOT be retrofitted to a welder that does not already have Wireless Interface Control circuitry built in. NOTE: Wireless Interface Control can only be paired to one welder at a time.

Features
With Wireless Interface Control, you can change welding processes, adjust parameters, select and save preset programs, turn the machine on/off, get service reminders and more from wherever you are on the jobsite. Extend time between fill ups and maintenance intervals while eliminating the need to go back to your machine to make adjustments.
300 foot operating range from welder to remote
View engine status, fuel level, and battery charge level of remote
View and select between all available processes
Turn contactor on/off manually in remote welding mode.
Turn engine on/off with remote.
Save custom presets in up to four programs and easily switch between pre-programmed settings
Quickly adjust and save arc control settings including DIG, DIG range inductance and Auto-Stop
Adjust amperage or voltage, by increments or percentage, while welding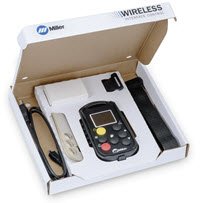 Comes complete with
Wireless Interface Control hand held remote
USB charging cord
AC adapter
Magnetic lanyard
Screen protector (2)



Total 5 star reviews: 0
Total 4 star reviews: 1
Total 3 star reviews: 0
Total 2 star reviews: 0
Total 1 star reviews: 0
Miller Wireless Interface Control 288137

This devise 100% delivers what its supposed to do. The range it transmits is exceptional. The one major drawback however is the battery life in the unit. I'm a 798 Pipeliner and I weld all day. After 5 hours of constant use (and yes the background contrast light turned down to 30%) the battery in the unit was completely dead. This left me in a bind. I have had to shell out an additional $660.00 for a secondary unit to use while the first one is recharging. Other than this issue its a fine item and I am very satisfied with it.
Reviews Loaded
Reviews Added