Mfg Industrial Price: $112.12
Unit price
per
Size:40 inch opening X 6 inch throat (100cm X 15 cm)
FAST & FREE SHIPPING On All Orders Over $50

Piher® Classic Clamp R - 40 Inch Opening X 6 Inch Throat (100cm X 15cm) 05100
Genuine Piher® Classic Clamp R with max 40 inch (100cm) opening and 6 inch (15cm) throat is designed and manufactured in Europe and is the original piston screw slide clamp. It has a maximum clamping pressure of 2,250 pounds (1000kg) and will not distort like competitive clamps.
The unique double-threaded "piston" design gives you two full thread turns for every one turn of the adjusting T handle, which reduces operator fatigue and increases torque. The partially enclosed adjustment mechanism means your fine threads are always protected from physical damage, debris or weld spatter.
The jaws of the Classic R clamp are made from heavy duty, epoxy-coated cast iron. The upper jaw is fixed. The lower slide jaw has a non-slip brake that prevents slippage. Hot rolled steel slide bar has unmatched strength and features anti-rust coating to provide long life.
The Piher Classic clamp R comes complete with a limited lifetime warranty.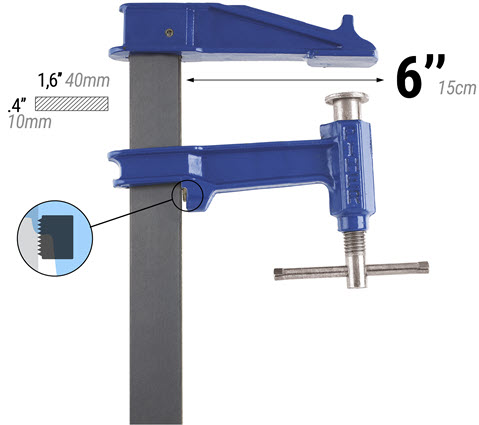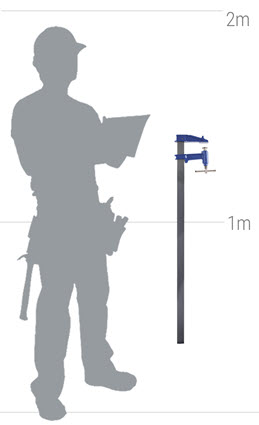 Features
Epoxy paint coated cast iron jaws.
Positioning system to hold and prevent any free fall of the moving jaw.
Tempered steel Nonslip brake on moving jaw.
Piston system with fully protected fine threads.
Double thread design multiplies both the advance and pressure capacity of the T handle.
No twisting or distortion at all thanks to the piston system.
Corrosion resistant hot rolled steel bar with anti-rust coating.
Limited lifetime guarantee.
Designed and manufactured in Spain.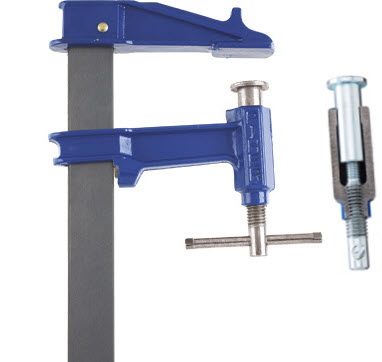 Specs
Max opening: 40" (100cm)
Throat: 6" (15cm)
Clamp pressure: 2,250 lbs. (1000kg)
Rail size: 1.6 X .4" (4.0cm X 1.0cm)
Weight: 11.5 lbs. (5.22kg)