Mfg Industrial Price: $196.82
Unit price
per
FAST & FREE SHIPPING On All Orders Over $50

SafTcart™ Cylinder Cart 920-6B
The SafTcart™ 920-6B cylinder cart is designed to hold one oxygen cylinder and one acetylene cylinder up to 7 inches in diameter each. It is ideal for one 80 cubic foot oxygen cylinder and one 75 cubic foot acetylene cylinder.
The 920-B features 6-inch diameter, semi-pneumatic wheels with steel hub and has a base plate that is 15 inches wide and 7 inches deep. Cart comes complete with safety chains, heavy duty steel tubing construction and heavy duty axle.
Includes
Ideal for one, up to 80 cubic foot oxygen cylinder and one, up to 75 cubic foot acetylene cylinder
cylinder chain
6 inch semi-pneumatic tires
Made in U.S.A.

NOTE: Cylinders NOT INCLUDED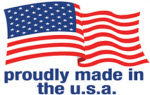 Total 5 star reviews: 2
Total 4 star reviews: 1
Total 3 star reviews: 0
Total 2 star reviews: 0
Total 1 star reviews: 0
Nicely made cart that is adequate for my needs

The cart showed up quickly and I have to admit that I was surprised by the size of this tiny box on arrival. I was convinced that something had to be missing but everything was there once everything was removed from the box. The cart is solid and works well for my 75 and 80cf cylinders. If there are any negatives, the handle is shorter than I would have thought it should be to accommodate this size of cylinders. I think the handle would have been perfect had it been a foot longer, at which point it might have been able to accommodate a hose hook. If using tanks smaller than a 75 and 80cf, the handle is probably sufficient but I feel that the short handle makes it a little bit tricky to maneuver with the larger tanks since you can't really tilt the cart back much at all. I added 2 pictures, one shows the cart with my 75/80cf tanks and the other shows the height of the handle compared to the tanks.

Overall, I'm happy with this cart and Cyberweld got it sent to me quickly even though it wasn't in stock when I ordered it. If the handle was a foot longer, I would have given 5 stars for the price.

Built well

This was easy to put together and built really well and at a reasonable price and fast shipping.

Great Cart

I do wish the handle was a little bit longer but you're not rolling the cart that far. Both bottles fit well and it does a good job of being a quality platform very stable. I really like to try on the back.
Reviews Loaded
Reviews Added