Mfg Industrial Price: $1,229.51
Unit price
per
Inlet:CGA 330 Corrosive Gas (Hydrogen Chloride, Hydrogen Sulfide, Sulfur Tetrafluoride, etc.)
Outlet Pressure:0-25 PSIG
Outlet:1/4 inch FNPT
FAST & FREE SHIPPING On All Orders Over $50

Smith® High Purity Stainless Steel Regulator - 310 Series CGA 330 Inlet for Boron Trifluorate, Carbonyl Sulfide, Hexafluoroacetone, Hydrogen Bromide, Hydrogen Chloride, Hydrogen Sulfide, Methyl Bromide, Methyl Mercaptan, Nitrosyl Chloride, Phosphorous Pentafluoride, Silicon Tetrafluoride and Sulfur Tetrafluoride gases.
The Series 310 Smith high purity stainless steel CGA 330 regulator is a single-stage regulator designed to prevent contamination of high purity systems and provide accurate regulation of corrosive, non-corrosive or toxic gases. For corrosive applications, all parts in this regulator exposed to the flowing media are constructed of 316 Stainless Steel and Teflon®. The specially designed and convoluted stainless steel diaphragm gives maximum accuracy and provides stable regulation of delivery pressure. This regulator is capable of withstanding an internal vacuum and available with diffusion resistant, packless diaphragm outlet valve to maintain system purity. A capturable 1/16 inch FNPT port in the bonnet is provided to vent hazardous gases in the event of a diaphragm failure.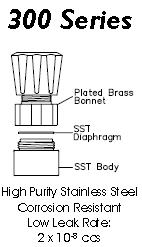 Features
316 Stainless steel filtered seat for added gas stream purity, and extended service life
Convoluted stainless steel diaphragm for precise control of pressure
Metal to metal diaphragm seal for maximum leak integrity
Large 2.5 inch easy to read single scale gauges
Bonnet is threaded for front panel mounting
Body is tapped for rear bracket mounting
316 stainless steel bar stock body
Captured vent port in bonnet (1/16" FNPT) allows for safe venting of hazardous gases
Note: A Cross Purge Assembly must be used with this series of regulators to ensure effective purging of hazardous gas traces during cylinder changes.
Specs