Mfg Industrial Price: $560.06
Unit price
per
FAST & FREE SHIPPING On All Orders Over $50

Smith® Oxygen Regulator - Heavy Duty 40-175-540
The Smith® 40-175-540S heavy duty oxygen regulator comes complete with Smith's steel "hard hat" installed. The "hard hat" protects 2.5 inch inlet pressure and delivery pressure gauges from damage. The 40-175-540S is a single stage oxygen regulator that provides high gas flows at up to 175 PSIG delivery pressure. Its rugged brass construction makes the 40 series oxygen regulator ideal for welding, cutting, heating and other industrial applications, either in the shop or on the job site. Stainless steel diaphragm allows use with liquid gases.
3 Year Limited Warranty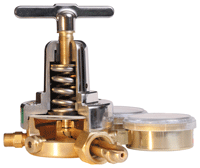 Features
Installed high strength steel "Hard Hat" protects 2 1/2 inch pressure gauges from damage.
External Relief Valve - Protects regulator from damage due to inadvertent high pressure surge.
Color Coded Labels - Supply performance capabilities and easy gas service identification.
Stainless Steel Diaphragm - Resists damage and freeze-up if used with liquid gases for extended service life.
Die-Cast "T" Bar Adjusting Screw - Provides comfort and durability.
Delrin™ Bonnet Insert - Allows smooth, easy adjustment even at high pressure levels.
Nickel Plated Bonnet - Along with brass body protect against corrosion.
Dual Filters Including Sure Seat™ - Protects high pressure seat from debris for reliable operation and long service life.
Shatter Resistant Gauge Lenses - 2-1/2" Brass gauges with Polycarbonate lenses resist damage and corrosion.

Specs