Mfg Industrial Price: $28.00
Unit price
per
FAST & FREE SHIPPING On All Orders Over $50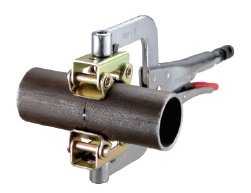 Strong Hand® Locking Pipe Pliers - PG114V
Strong Hand® PG114V Locking Pipe Pliers are the patent pending, new convenient way to hold pipe / tube for butt-welding. These pliers will hold pipes securely. The design also allows for user to adjust the clamping pressure without releasing the pliers.
Super strength for the professional.
Features
Forged, rugged pliers with V-PADS for holding pipe
Deeper than normal throat for versatility
Made of high strength treated steel
Nickel/chrome plated body

Specs
Size: 11"
Pipe Diameter Capacity: 1.5" to 2.5"



Standard ground shipping included within contiguous U.S.