Mfg Industrial Price: $365.22
Unit price
per
FAST & FREE SHIPPING On All Orders Over $50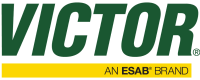 Victor® 497 Roller Guide 0383-0009
The Victor® 497 Roller Guide is an excellent tool for helping you produce accurate, consistent cuts with your oxy/fuel cutting torch. The 497 roller guide is fully adjustable and fits over the shank of virtually every brand of oxy/fuel cutting tip.
Features
Fits Victor® cutting tips and most other brands
Height adjustment for precision stand-off cutting and beveling.