Mfg Industrial Price: $418.91
Unit price
per
Acetylene Inlet:CGA 300 (female threads)
FAST & FREE SHIPPING On All Orders Over $50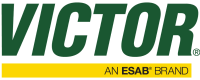 Victor® Acetylene Regulator - Edge™ 2.0 Series ESS42 Heavy Duty 0781-3602
The Victor® Edge™ 2.0 Series CGA 300 Acetylene regulator is a single-stage, heavy-duty gas regulator that features a large 2.5 inch, color-coded outlet pressure gauge and color-coded adjustment knob. The red outlet pressure (delivery pressure) adjustment knob allows you to quickly identify that you are using acetylene. Both the inlet pressure gauge (HP) and outlet pressure (LP) (delivery pressure) gauge are color-coded and protected by heavy duty metal gauge guards.
The Edge 2.0 Acetylene regulator has a stainless steel diaphragm and supplies smooth, consistent gas flow with delivery pressures up to 15 PSIG. SLAM pressure adjustment knob resists oxygen-related fires and absorbs the shock of a falling cylinder, enhancing safety.
Applications
Ship/Barge Building
Automotive
Railcars
Light Fabrication
Heavy Fabrication
Offshore Oil
Civil Construction
Repair and Maintenance
Features
Lifetime Warranty
Fully enclosed, highly visible modular gauges for more clarity with robust metal gauge guard
Extra large 2.5 in. (63.5 mm) delivery gauge and stainless steel diaphragm
Robust seat gives optimum performance
Consistent pressure and flow delivery
High resistance to oxygen related fires and SLAM knob absorbs impact in the event of a cylinder fall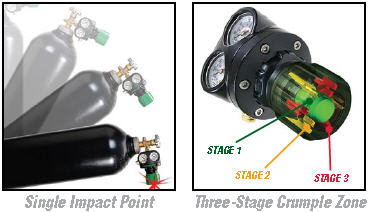 NOTE: If your acetylene tank has male valve threads, you should choose this CGA 300 female regulator. This regulator WILL NOT fit on a "B" or "MC" tank.



ESAB®, is committed to putting customers first. The Iron Clad Pledge is ESAB's promise to keep its customers' complete satisfaction at the forefront of everything they do. ESAB's pledge is centered around:


Extensive product warranties
Customer-focused business practices