Mfg Industrial Price: $1,171.18
Unit price
per
Acetylene Inlet:CGA 510 (Male)
FAST & FREE SHIPPING On All Orders Over $50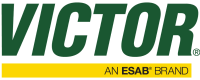 Victor® Contender® EDGE™ 2.0 Heating & Cutting Outfit 0384-2130
Genuine Victor® 540/510 Contender® EDGE™ 2.0 heating & cutting outfit is a heavy duty oxy/fuel kit that uses acetylene as the fuel gas. The Contender cuts up to 3/4" thick steel with included size 1 cutting tip or up to 8" material with optional tips. It also comes standard with an 8-MFA heating tip for preheat or post-heat welding operations.
The Contender® EDGE 2.0 comes complete with 20 foot Grade T twin welding hose, 1-1-101 cutting tip, 8-MFA heating tip and striker. The WH315FC welding torch handle and CA2460 cutting attachment come with
ESAB's 10 Year Warranty.
The ESS32 series regulators come with
ESAB's Lifetime Warranty.Applications
Industrial and General Fabrication
Light Fabrication
Automotive
Civil Construction
Agricultural Equipment
Repair and Maintenance
Structural Steel Fabrication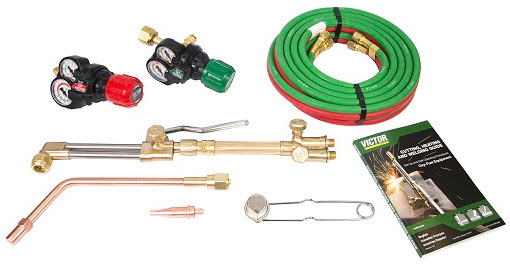 Features
Lifetime Warranty on regulators. 10 Year Warranty on torch handle and cutting attachment
Cuts up to 8 in. (203.2 mm) with optional tips
Heats up to 323,000 BTU/hr. with optional heating nozzles
Heavy duty construction
ESS32 EDGE™ 2.0 regulators
WH315FC torch handle with built-in flashback arrestors and reverse flow check valves
CA2460 cutting attachment
Also includes cutting tip, 20 ft. x 1/4 in. twin hose & striker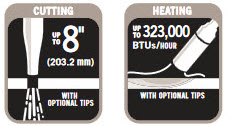 Comes complete with:
WH315FC Torch handle
CA2460 Cutting attachment
1-1-101 Acetylene cutting tip
8-MFA Heating nozzle
ESS32 CGA 540 Oxygen regulator
ESS32 CGA 510 Acetylene regulator
20 foot 1/4" twin hose
Striker
Built-in flashback arrestors & check valves
Operator's manual

Know your acetylene inlet.
If your tank valve has female threads, you should choose this CGA 510 (male) torch kit. Note: will not fit "B" or "MC" acetylene cylinder.





ESAB®, is committed to putting customers first. The Iron Clad Pledge is ESAB's promise to keep its customers' complete satisfaction at the forefront of everything they do. ESAB's pledge is centered around:


Extensive product warranties
Customer-focused business practices