Mfg Industrial Price: $1,085.99
Unit price
per
FAST & FREE SHIPPING On All Orders Over $50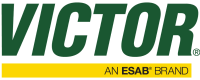 Victor® Medalist® 250LP Classic Heating & Cutting Outfit 0384-2583
The Victor® Medalist® 250LP Classic 540/510LP Heating & Cutting Outfit is a medium duty oxy/fuel kit that uses propane (LP Gas) as the fuel gas. The Medalist 250 cuts up to 1/2" thick steel with included size 1 cutting tip or up to 5" material with optional tips. The torch kit also contains one Victor 6MFN-1 heating nozzle, that has a multi-flame heating head for preheating, priming and straightening.
The Medalist 250 comes complete with 20 foot Grade T twin welding hose, 1-3-GPN cutting tip, 6MFN-1 heating nozzle, welding goggles and striker. The WH270FC welding torch, CA270 cutting attachment and G250 regulators come with
ESAB's 7 Year Warranty.Applications
Farm
Ranch
Hobby
Automotive
Refrigeration
Light fabrication and repair
Features
7 Year Warranty on regulators, torch handle and cutting attachment
Cuts up to 1/2 in. (12.7 mm) or 5 in. (127.0 mm) with optional tips
Medium duty construction
G250 Series regulators
WH270FC torch handle with built-in flashback arrestors and check valves
CA270 cutting attachment
Also includes welding nozzle, cutting tip, T-grade hose 20 ft. x 3/16 in., striker and soft-sided goggles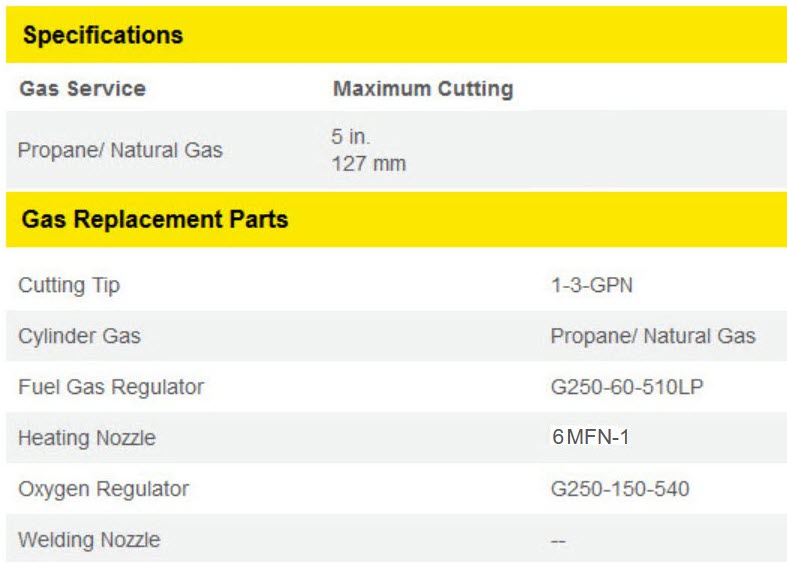 Comes complete with:
WH270FC Brass Torch handle
CA270 Brass Cutting attachment
1-3-GPN Propane cutting tip
6MFN-1
G250-150-540 Oxygen regulator
G250-60-510LP Propane regulator
20 foot Grade T 3/16" twin hose
Striker
Goggles
Built-in flashback arrestors and check valves
Operator's manual





ESAB®, is committed to putting customers first. The Iron Clad Pledge is ESAB's promise to keep its customers' complete satisfaction at the forefront of everything they do. ESAB's pledge is centered around:


Extensive product warranties
Customer-focused business practices


Total 5 star reviews: 1
Total 4 star reviews: 0
Total 3 star reviews: 1
Total 2 star reviews: 0
Total 1 star reviews: 0
20 ft hose not 25 ft hose

It is a good kit for a hobbyist which is what I need it for. Now for the reason for a 3 star rating, first the hoses are 20 ft not 25 ft so that is a bummer as they were advertised as 25 ft. Now the second reason which is not cyberwelds fault but Victor's and that is the packaging in the victor box let the parts move around to the point in which the torch handle zip ties ripped out of the cardboard and got all scratched up and the LP regulator gauge cover came off but I was able to put it back on. So not thrilled about that but it still works. Oh the 411 handle uses 300 series attachments just a tip.

Oxy Propane

Great torch so far! Propane burns different then acetylene, but cuts are clean and the torch is awesome. Make sure to order additional tips for variety of material thicknesses.
Reviews Loaded
Reviews Added