Mfg Industrial Price: $423.46
Unit price
per
Acetylene Inlet:CGA 510 (Male)
FAST & FREE SHIPPING On All Orders Over $50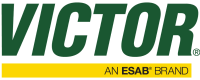 Victor® Medalist® 350 Classic Welding & Cutting Outfit 0384-2698
Genuine Victor® Medalist® 350 Classic 540/510 Welding & Cutting Outfit is a heavy/medium duty oxy/fuel kit that uses acetylene as the fuel gas. The Medalist 350 cuts up to 3/4" thick steel with included size 1 cutting tip or up to 6" material with optional tips. It welds up to 1/8" thick steel with included size 2 welding nozzle or up to 3" with optional nozzles.
Brass torch handle has built-in flashback arrestors and reverse flow check valves. The Medalist Classic 350 comes complete with 20 foot Grade RM twin welding hose, 1-1-101 cutting tip, #2 welding nozzle, welding goggles and striker. The welding torch, cutting attachment and G350 regulators come with
ESAB's 7 Year Warranty.Applications
Industrial & general fabrication
Repair & maintenance
Structural steel fabritcation
Light Fabrication
Features
7 Year Warranty on regulators, torch handle and cutting attachment
Cuts up to 3/4 in. (19.1 mm) or 6 in. (152.4 mm) with optional tips
Welds up to 1/8 in. (3.2 mm) or 3 in. (76.2 mm) with optional nozzles
Heavy duty construction
G350 Series regulators
Brass torch handle with built-in check valves and flashback arrestors
Brass cutting attachment is suitable for all fuel gases
Also includes welding nozzle, cutting tip, RM-grade hose 20 ft. x 1/4 in., striker and soft-sided goggles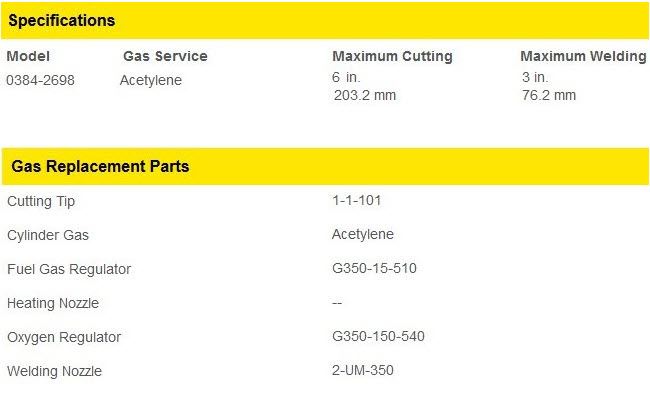 Know your acetylene inlet.
If your tank valve has female threads, you should choose this CGA 510 (male) torch kit.

Note: will not fit "B" or "MC" acetylene cylinder.







ESAB®, is committed to putting customers first. The Iron Clad Pledge is ESAB's promise to keep its customers' complete satisfaction at the forefront of everything they do. ESAB's pledge is centered around:


Extensive product warranties
Customer-focused business practices

Comes complete with:
Brass Torch handle with built-in flashback arrestors
Brass Cutting attachment
1-1-101 Acetylene cutting tip
#2 Welding tip
G350-150-540 Oxygen regulator
G350-15-510 Acetylene regulator
20 foot Grade RM 1/4" twin hose
Striker
Goggles
Built-in flashback arrestors and check valves
Operator's manual