Mfg Industrial Price: $680.89
Unit price
per
FAST & FREE SHIPPING On All Orders Over $50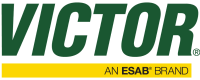 Victor® Plus Torch Replacement Pack - Heavy Duty CA2460+ and WH315FC+ 0381-1937
Genuine Victor® Plus Torch Replacement Pack features one heavy duty CA2460+ Cutting Attachment and one WH315FC+ torch handle. The Plus Torch Replacement Pack represents a 25% savings versus buying the CA2460+ and WH315FC+ separately.
The CA2460+ is a heavy duty oxy/fuel cutting attachment for use with Victor 315 series torch handles. The CA2460+ features forged brass head with stainless steel gas tubes, and the second generation improves flow, durability & connectivity. It is capable of cutting up to 8 inch thick steel using Victor "1" series cutting tips.
The Victor® 315FC+ second generation heavy duty torch handle features solid brass construction and improved flow capability. This high capacity torch handle comes complete with built-in reverse flow check valves and flashback arrestors. The 315FC+ accepts Victor "W" series welding nozzles and "MFA" and "MFN" series heating nozzles. It has a direct connection to the Victor CA-2460/CA-2460+ cutting attachment for oxy/fuel cutting operations.
Applications
Ship/Barge Building
Automotive
Rail cars
Light Fabrication
Heavy Fabrication
Offshore Oil
Civil Construction
Repair and Maitenance
CA2460+ Features
Uses 1 Series cutting tips
Die-Forged Brass Head
Spiral mixer blends Oxygen & Fuel
Smooth Cutting Valve (Push Type)
Stainless Steel Tubes
Brass Coupling Nut & Double O Ring tapered seal gives quick gas-tight seal without a tightening wrench
Length 10-1/2 inches
Weight 32 oz. (.99 kg)
Head angle - 90 degrees

WH315FC+ Features
Uses Victor® "W" Series welding tips and "MFA/MFN" Series heating nozzles.
Built-In Flashback Arrestors - no need for accessory flash arrestors
Built-in Reverse Flow Check Valves
Works with all fuel gases. There are pressure restrictions for different gases
Accepts Victor® CA2460 & CA2460+ series cutting attachments
Hose connection - 9/16"-18 (B)






ESAB®, is committed to putting customers first. The Iron Clad Pledge is ESAB's promise to keep its customers' complete satisfaction at the forefront of everything they do. ESAB's pledge is centered around:


Extensive product warranties
Customer-focused business practices

Comes complete with:
CA2460+ Cutting attachment
WH315FC+ Torch handle