Mfg Industrial Price: $9.18
Unit price
per
FAST & FREE SHIPPING On All Orders Over $50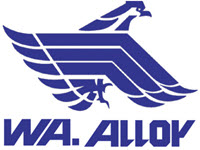 Washington Alloy® ER70S-6 Steel 1/8 Diameter TIG Welding Wire - 1 lb. Mini Pack TM 70S-6 06
1 lb. tube 36 inch lengths -
Washington Alloy® 1/8 diameter ER70S-6 copper coated carbon steel TIG welding wire is excellent for welding similar mild and low alloy steels. Its deoxidizing properties make ER70S-6 a great choice for welding rusty or oily plate. ER70S-6 also excels in poor fit-up welding applications.
Washington Alloy ER70S-6 provides X-ray quality, porosity-free welds. The high silicon content improves flow for a smooth weld bead.
Applications
Construction work
Tanks
Truck bodies
Farm implements
Pipe
Steel castings or forgings
Shaft build-ups
General shop fabrication.
Shielding Gas:
Argon 100%

Specs


Total 5 star reviews: 1
Total 4 star reviews: 0
Total 3 star reviews: 0
Total 2 star reviews: 0
Total 1 star reviews: 0
Reviews Loaded
Reviews Added