Mfg Industrial Price: $726.98
Unit price
per
FAST & FREE SHIPPING On All Orders Over $50

Weldcraft™ TIG Torch Kit - AK-225MFC (Modular Flex Complete)
Genuine Weldcraft™ AK-225MFC (Modular Flex Complete) Kit converts a single WP-225 water-cooled TIG torch package into 5 additional torch configurations. This highly adaptable torch meets the demands of multiple TIG welding applications, and eliminates the need to purchase, stock or changeover additional torches.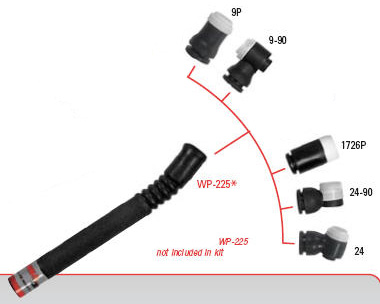 Features
All-in-one kit features collets, collet bodies, nozzles, torch heads and more to simplify inventory and storage, and complements available WP-225 torch packages.
Efficient water-cooling capacity minimizes overheating to reduce costly and unnecessary downtime, and helps extend consumable life.
Multiple torch-head options provide good joint access, even in the most difficult-to-reach areas, and allow for welding at various angles.
2% Ceriated tungsten provides excellent arc starting for a range of amperage settings, and performs well for AC or DC processes. (1/16", 3/32" and 1/8" diameters included.)





NOTE: WP-225 NOT included in kit


Total 5 star reviews: 0
Total 4 star reviews: 0
Total 3 star reviews: 1
Total 2 star reviews: 0
Total 1 star reviews: 0
It's OK but, at least for now, wish I went with the flex loc torch and a set of micro torches instead.

It's OK. Expensive especially after buying the torch for $350.

One of the smaller torch heads seems to have a problem with the plastic molding around the head not really fitting the head well.

It's mine now. Hopefully it grows on me. Still just want to put my weldtec 20 torch back on but I'm trying to give this torch a good go since I'm into it for over $500. And that's buying everything on sale price!
Reviews Loaded
Reviews Added