Mfg Industrial Price: $466.49
Unit price
per
FAST & FREE SHIPPING On All Orders Over $50

Weldcraft™ A-150 Flex TIG Torch Package - 2 Piece 150 Amp Air-Cooled WP-17F-25-2
Genuine Weldcraft™ WP-17F-25-2 TIG torch with flexible head is a 150 amp, air-cooled torch with individual 25 ft. gas hose and power cable. The TIG torch's flexible neck adjusts to just about any welding angle. The two piece WP-17F-25-2 is intended for use with TIG/Stick welders that do not have a built-in gas solenoid. Rubber insulated power cable has a lug on one end to connect to output stud of the welder or to a stinger. Braided rubber gas hose has male inert gas fitting and hooks directly to the gas outlet of your inert gas flowmeter/regulator.
The WP-17F-25-2 provides a comfortable grip and better torch control in all positions. The ergonomic torch design ensures proper relationship between the TIG torch and weld joint, with maximum comfort and maneuverability. The A-150 Flex is excellent for welding difficult-to-reach welding joints.

Applications
Fabrication
Maintenance and Repair
Aerospace
Food and Beverage Industry
Metal Art
Petro/Chemical
Shipboard Installation/Repair
Features
Improve control and comfort with the A-150 Flex and the flexible neck that allows access into hard-to-reach areas.
Diamond Grip™ head design - ergonomic contact points for thumb and fingers. Provides a more comfortable grip and reduces operator fatigue.
Ribbed handle and torch design provide cool operation and maximum operator comfort while reducing downtime caused by operator fatigue.
Utilize existing parts - replacement parts are easy to find. The A-150 Series uses Weldcraft 10N series consumables.
25-foot power cable
25-foot gas hose

Specs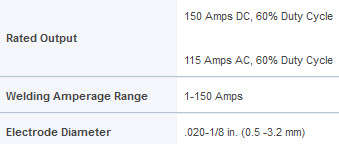 Comes complete with:
A-150 Flex Torch Body
Long back cap
Handle
2-Piece 25 ft. (7.6 m) rubber insulated power cable with lug and braided rubber gas hose with male inert gas fitting

OPTIONAL AK2 Accessory Kit comes complete with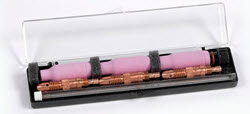 1 short back cap
3 Collets, .040, 1/16 & 3/32"
3 Collet bodies, .040, 1/16 & 3/32"
3 Alumina Nozzles, #4, #5, #6
3 Tungsten Electrode 2% ceriated, .040, 1/16, 3/32 X 7"