Mfg Industrial Price: $437.52
Unit price
per
FAST & FREE SHIPPING On All Orders Over $50

Weldcraft™ W-180 TIG Torch Package - 180 Amp Water-Cooled WP-24W-25
Genuine Weldcraft™ W-180, WP-24W-25 TIG torch is a 180 amp water-cooled torch that features a compact torch body which provides superior maneuverability and excellent weld capacity, allowing you to use high amperage in confined areas. It also features a compact and lightweight body design, providing a comfortable grip and better torch control in all positions. Around-the-head water cooling minimizes overheating, extending the life of the torch and reducing downtime. The ergonomic torch design ensures proper relationship between the TIG torch and weld joint, with maximum comfort and maneuverability.

Applications
Aerospace
Food/Beverage Industry
Light and Heavy Manufacturing
Maintenance and Repair
Petro/Chemical
Precision Fabrication
Ship Building
Features
Comfortable handle design reduces fatigue and discomfort
Unique cooling design reduces downtime by minimizing overheating
25 foot vinyl power cable and hoses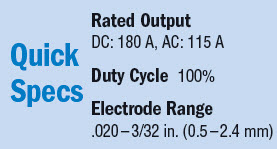 Comes complete with: W-180 torch body, handle, vinyl power cable, gas hose and water hose.