Mfg Industrial Price: $486.42
Unit price
per
FAST & FREE SHIPPING On All Orders Over $50

Weldcraft™ W-225 Pencil TIG Torch Package - 225 Amp Water-Cooled WP-20P-25
Genuine Weldcraft™ W-225, WP-20P-25 Pencil TIG Torch is a 225 Amp Water-Cooled torch that features a compact and lightweight body design, providing a comfortable grip and better torch control in all positions. The pencil style head allows for greater access to hard to reach areas. Around-the-head water cooling minimizes overheating, extending the life of the torch and reducing downtime. The ergonomic torch design ensures proper relationship between the TIG torch and weld joint, with maximum comfort and maneuverability.

Applications:
Aviation
Aerospace
Boat / Yacht
Construction
DIY / Home Hobbyist
Farm and Ranch
Heavy Equipment Manufacturing
High Purity Processing
Infrastructure
Manufacturing
Metal Art / Sculptures
Racing / Customizing / Restoring
Railcar
Features:
Lightweight and compact for comfort and control.
Around-the-head cooling design extends torch life and reduces downtime by minimizing overheating.
25 foot vinyl leads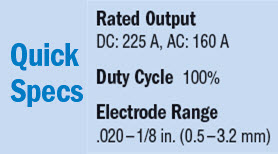 Comes complete with: W-225 torch body, handle, vinyl power cable, gas hose and water hose

OPTIONAL AK4C Accessory Kit comes complete with
1 long back cap
3 Collets, 1/16, 3/32 & 1/8"
3 Collet bodies, 1/16, 3/32 & 1/8"
3 Alumina Nozzles, #5, #6, #7
3 7-inch 2% Ceriated Tungsten Electrodes, 1/16, 3/32 & 1/8