Mfg Industrial Price: $537.06
Unit price
per
FAST & FREE SHIPPING On All Orders Over $50

Weldcraft™ W-310 TIG Torch Pkg - 310 Amp Water-Cooled CS310-12 (Crafter™ Series)
Genuine Weldcraft™ W-310 CS310-12 (Crafter™ Series) torch package is a 310 amp, water-cooled TIG torch with 12.5 foot braided leads. The W-310 Torch has 310 amp DC and 235 amp AC at 100% duty cycle output capacity.

Applications
Aerospace
Aluminum fabrication
Aluminum ship repair
Automotive
Exotic material fabrication
Light and heavy manufacturing
Maintenance and repair
Pipe and tube fabrication
Precision metal fabrication
Pressure vessel fabrication
Shipbuilding
Tool and die
Tube and pipe
Vocational
Features
ColorSmart™ hose and cable sets differentiate input water, water/power cable and gas hoses to simplify torch package installation.
D-Handle™ design features a self-indexing flat top for torch orientation by feel.
Tri-Flex™ hose and cable assembly remains flexible in cold weather to improve handling and extend cable life.
Double-lip back cap seal improves high-frequency shielding and reduces gas leakages.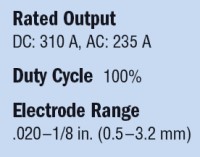 Comes complete with
W-310 Torch Body
Handle
12.5-foot Braided Rubber Power Cable
Gas Hose and Water Hose
Cable Cover
Long back cap